Soy sauce maker sues over firm's 'misleading' name
By Zhang Zhao (China Daily)
Updated: 2012-06-13
---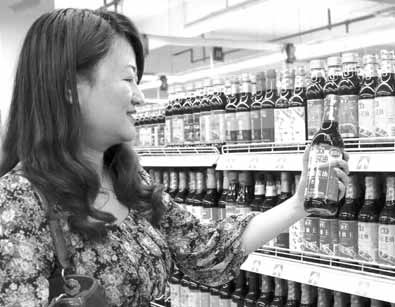 Hai Tian alleges its sales are affected by its competitor's scandal. [Photo/China Daily]
The largest soy sauce manufacturer in China recently filed a lawsuit against the already scandal-wracked Weiji Seasoning Food Co Ltd, accusing it of using a "misleading" name that could cause confusion between the companies.
Hai Tian Flavoring & Food Co Ltd, based in Foshan, Guangdong province, is seeking 10 million yuan ($1.6 million) in damages in a case against Weiji, which came under fire last month after media reports came out alleging it made more than 10,000 boxes of soy sauce using 760 tons of salt water meant for industrial use.
Although it was discovered after investigation that only 90 boxes of the adulterated soy sauce were produced, the public's outrage was hard to contain, given that soy sauce is one of the most commonly used spices in a Chinese kitchen.
Hai Tian also saw its reputation tarnished by the incident because its soy sauce trademark shares the same name as the Weiji company, though Weiji produces its product under the brand name Weiding. Also, the companies are located a very short distance away from each other.
Hai Tian made announcements on the Internet and held a press conference on May 24 to claim it has no connection with the other company.
"The involved company reportedly has an annual production capacity of only 80,000 boxes of soy sauce, while at Hai Tian, one single production line can produce 4,000 boxes in just an hour," said Ye Yanqiao, general manager of Hai Tian's production center.
Zhang Xin, the brand manager of Hai Tian, added that the trademark Weiji was registered in 1994, four years before Weiji Seasoning Food Co Ltd was founded.
The general manager of Weiji, Zhang Yuhua, also pointed out that his company and Hai Tian are two independent companies.
"Hai Tian is an industry leader. We have no official contact with Hai Tian, nor are we their OEM factory," Zhang told Xinkuaibao, a local Guangdong newspaper.
Hai Tian claimed that they suffered great losses because of the Weiji scandal. According to its suit, the company lost more than 8 million yuan in sales revenue in nine days after the news was unveiled.
In Carrefour supermarkets in Shenzhen, the sales of Hai Tian's soy sauce declined by 25 to 50 percent on May 22, according to the suit.
Lin Cunbao, a lawyer at Guangdong Baohui Law Firm, said it is "difficult to judge whether it is illegal for Weiji to use a trademark owned by Hai Tian as its company name".
"We cannot rule out the possibility that Weiji has chosen the name on purpose to gain benefits on the market, but the management of trademarks and company names are two systems," he explained.
zhangzhao@chinadaily.com.cn
Steve Jobs died the month that the latest Nobel Prize winners were announced. The coincidence lends itself to speculation about inevitability.