China Intellectual Property
China Patent Week: National spotlight on intellectual property
By Xiao Wang (China Daily)
Updated: 2011-10-26
---
China Patent Week held from Nov 9 to 15 across the country is an effort to increase intellectual property (IP) awareness and create a favorable environment for inventions and IP protection, according to a senior official of the State Intellectual Property Office (SIPO).
"The annual event is an intensive showcase of patented technologies and plays an active role in promoting the patent system and spread of IP culture," Ma Weiye, director of the SIPO Patent Management Department, said at a press conference in Beijing on Oct 24.
This year's Patent Week will focus on IP commercialization and helping companies formulate patent strategies, Ma said.
A series of seminars and forums at the main venue in Beijing will discuss issues ranging from patent agencies and information services to IP-backed financing and overseas development.
As well, authorities will increase inspections to check for counterfeits and announce the results during the period.
This year marks the beginning of the 12th Five-Year Plan (2011-2015) and also the 10th anniversary of China's joining in WTO, so hosting the patent event is significant to Beijing's growth, said Wang Hong, chief of the city's IP Office.
Nearly 53,000 patent applications were filed in Beijing in the first nine months of the year, an increase of 37.1 percent over the same period in 2010.
Of the total filings, invention patent applications - the IP seen as most crucial to progress - surpassed the 30,000 mark, or about 57 percent of the total.
As well, "this year's event with more than 8,000 square meters of patent exhibitions will set a record", Wang said.
The exhibition will highlight the achievements in Beijing's high-tech sector, the creative industry, modern services and other strategic industries listed as a priority in the city's Five-Year Plan.
The venue will be open free of charge to anyone with their ID card, which is expected to increase awareness of patents among the public, he added.
Thirty central government departments and 31 local governments are taking part in various IP activities held concurrently in other regions, Ma said.
China Daily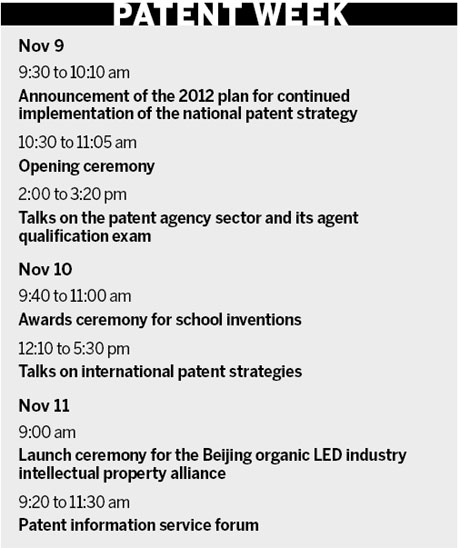 (China Daily 10/26/2011 page17)
Are we able to stop our rivals from obtaining authorization of a patent application that we regard as having substantial defects during the substantive examination, given the fact that the rival companies hane already published their patent applications?