COFCO trust: exploring new models for ip pledge financing
By Kevin Nie (China Daily)
Updated: 2011-09-22
---
COFCO Trust Co., Ltd. (COFCO Trust) is a "rising star" in the domestic trust industry, but has taken the lead among domestic peers in opening up new area for investment and exploring new models for intellectual property (IP) financing. So far, COFCO Trust, in partnership with relevant institutions, has successfully issued two debt financing entrusted funds project s for the innovative high-tech enterprises in the Zhongguancun Science and Technology Park (Zhongguancun Park).
Exploring New Models for IP Financing
Small and medium-sized enterprises (SMEs) are the major forces in the economic and social development of China. However, the difficulty in getting loans, guarantees securities and financing has long bottlenecked to the sustainable development of SMEs. Therefore, the State Council and the China Banking Regulatory Commission (CBRC), the Ministry of Science and Technology and other departments have issued a number of policies and measures, such as Several Opinions of the State Council on Further Promoting the Development of Small and Medium-sized Enterprises and Guiding Opinions on Extending More Credits to High-tech Small and Medium-sized Enterprises , to encourage financial institutions to strengthen financing supports for SMEs through innovation of financial products and exploration of IP mortgage. The National 12th Five-Year Plan has also set clear requirements to support financing of SMEs and encourage IP mortgage.
"Ever since its founding, COFCO Trust has been attaching great importance to the product innovation and conducting active researches to develop new types of trust products. In the meanwhile, COFCO Trust has been making full use of the advantages of the trust system to serve areas advocated and supported by the state policies. China has, for quite a long time, encouraged financial institutions to actively explore new models of IP financing services. In 2010, CBRC chairman Liu Mingkang delivered a speech at the Zhongguancun Banks-Enterprises Forum, urging the relevant financial institutions to support high-tech SMEs in the Zhongguancun Park by granting IP mortgages and other guarantees, and putting in place a repayment regime on the basis of their varied development stages", COFCO Trust general manager Dr. Xin Wei told China IP during an interview.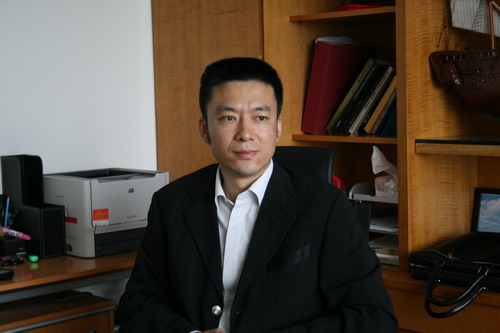 Dr. Xin Wei, COFCO Trust general manager
"After an exhaustive market research and repeated demonstrations, we have joined hands with cooperative institutions and successfully issued two debt financing entrusted funds projects for innovative high-tech enterprises in the Zhongguancun Park", said Xin Wei. "On February 1, 2010, we tied up with Beijing Vestone Capital Co., Ltd. (Vestone Capital) and Fuhigh Financial Services (Fuhigh) and issued the Collective Entrusted Funds Project for the Debt of Innovative Enterprises, granting an aggregate RMB16 million loan for AIRSYS Refrigeration Engineering Technology (Beijing) Co., Ltd. (AIRSYS), Bejing Youth Information Technology Co., Ltd. and Baogui Stoneart Technology Co., Ltd. (Baogui Stoneart). In April 2011, we also teamed up with China Technology Exchange (CTEX), Vestone Capital and Fuhigh to set up the Collective Entrusted Funds Project for the Intellectual Property of Zhongguancun Independent Innovations (Phase I) (Project). AIRSYS and other three SMEs secured an aggregate 20 million Yuan loan from the Project mainly by means of IP mortgage.
It is learned that the Project is an innovative product type and an important measure to explore new models of IP financing services. Through the Project, high-tech SMEs not only can obtain debt financing by means of IP mortgage, but also make use of the platform to attract social investors for debt financing. The combination of debt and equity financing will help boost the sustained and rapid development of SMEs.
Why does the development of China's trust industry go hand in hand with IP? Xin Wei said there are many reasons: "Firstly, China's economic growth has been revolving from the traditional reliance upon resources and capital investment to reliance upon science and technology and intellect, from a labor-intensive society to a consumption-driven one. During the transition, knowledge has played an irreplaceable role. Secondly, the increase of social riches has promoted the development of asset management industry, which, in turn, has led to the rapid development of the trust industry. Thirdly, the national industry policies have begun to direct social capital and venture capital to invest in high-tech innovative enterprises and encourage Zhongguancun enterprises to list in the new domestic OTC board and ChiNext. Lastly, the inherent forces of trust companies in their business expansion have gradually helped us discover business models of IP financing services."
"COFCO Trust, as a promoter of the Project, was responsible for structuring the entrusted funds and means of guarantees, conducting due diligence investigations into the borrowing enterprises, raising funds, and improving the follow-up loan management." Xin Wei said, "To this end, we have made preparations and a number of researches with CTEX, Vestone Capital and Fuhigh, and analyzed the product structure, proportions of layers and other issues. In the meanwhile, we have also conducted due diligence investigations into the borrowers to make reasonable assessment and manage risks."
According to COFCO Trust assistant general manager Dr. Zhang Yong, COFCO Trust has taken risk-prevention measures for trust projects throughout the entire process. At the outset, COFCO Trust will make full use of the advantages of the trust system, design layered trust products to lessen risk factors. Before granting a loan, COFCO Trust will conduct a thorough and detailed due diligence investigation into the borrowing enterprise and make risk assessment to ensure its full compliance with requirements of the trusted loan. Meanwhile, COFCO Trust will adopt IP mortgage as the main means of guarantee, introduce social institutional investors to provide security for the borrower and has put in place relatively comprehensive risk control measures. After granting the loan, COFCO Trust will continue with follow-up management over the borrower, monitor its operations, assess loan risks and implement sustained and effective project risk control.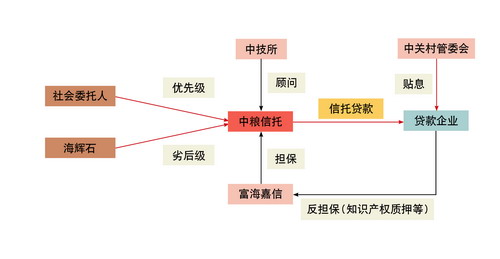 "Before the loan is approved, COFCO Trust will form a risk assessment committee with our partners to analyze and assess project risks from the perspectives of patents and technologies, debt financing and equity financing, so that risks will be prevented from the very beginning. We also work to control structural risks, including the aggregate amount of the trust, the cap on the amount for an individual enterprise, the cap on the amount for an individual project, the cap on the overall amount of the trust, a portfolio of projects and proportioning of high and low risks," said Zhang Yong.
How do enterprises qualify for an entrusted fund? How are they sorted out and finalized? "The criteria are generally as follows: the enterprises operate stably, have sustainable and stable cash flow, are capable of independent innovation, possess mortgageable IP rights which have played an important role in business operations. With full support and cooperation with CTEX, Vestone Capital and Fuhigh, COFCO Trust shortlisted the applicants, conducted in-depth and detailed due diligence investigations and finalized a list of chosen enterprises. COFCO Trust project manager Zhang Qian told China IP that "specific qualifications include: (1) an independent legal entity registered in Beijing and capable of bearing independent civil liabilities; (2) no bad credit record in business operations and fulfillment of obligations; (3) consistent with current national standards for SMEs (by reference to Guo Jing Mao SME [2003] 143); (4) in compliance with national industrial policies, economic and social development plans of Beijing, requirements of Beijing's city function positioning and industrial development planning; (5) an innovative and high-growth company with more than 10 million Yuan in net current assets and no higher than 70% in asset-liability ratio, ranked top in the segmented markets of the industry; (6) a clear main business with a good prospect of growth, and achieving sustained growth in operating income or net profits for the most recent two years."
"The procedure of selecting an enterprise goes like this: the enterprise first fills out an application form which will be preliminarily examined by CTEX and later reviewed by a review committee comprising personnel from CTEX, trust companies, investment firms and guarantors. The enterprise having passed the review will be put on the final list for the trust", said Li Zhe, a trust project manager with COFCO Trust.
Giving Full Play to the Advantages of the Trust System
Xin Wei said, "From the perspective of investment and financing, the advantages of the trust system lie in the following aspects: (1) diversity of funding sources, attracting participation of investors with varied preferences over risks and returns, which is of particular importance to the high-tech SMEs with high risks; (2) structured arrangement, multi-layered arrangement over preferred beneficiaries and deferred beneficiaries may lessen the risk factors, enabling different investors to choose different ways of investment on the basis of their characteristics and demands, and take different risks and benefits; (3) in addition to debt financing, the trust system provides mezzanine financing, equity financing and other financing options; (4) introduction of social capital in combination with bank credits, VCs and other financing tools, to enrich and improve the financing channels for high-tech SMEs."
Xin Wei said, "The Project has fully explored the advantages, making innovations in a wide range of areas such as product design concepts and operation modes. Firstly, the Project introduced the social resources of Zhongguancun Administrative Committee, CTEX and Vestone Capital to provide respectively financial subsidies, IP value discovery and realization, and deferred investment. The resources fully cooperated and shared risks. Secondly, layered trust arrangement helped to meet varied requirements of different market players over risks and returns, and introduction of VC institutional investors as deferred beneficiaries assuming security responsibilities lessened the risk factors. Thirdly, the combination of debt and equity investment provided a sustainable business profit model for social investors in the independent innovation IP trust."
As regards the current ineffectiveness of IP mortgage loans commonly granted by the domestic banking industry, Xin Wei said that the banks are engaged in the traditional debt financing, mainly because their clients have relatively low risk-bearing capacities, determining the banks' preference over security among the three indicators of security, fluidity and income. Because of its inherent advantages, the trust system may make flexible arrangements over the three indicators in structuring trust products. However, the current IP financing models still have many deficiencies in such areas as the social legal climate and the IP pricing mechanism.
Actively Exploring Varied Development Models
According to Xin Wei, at present, major domestic trust investment companies are looking for specialized development models of their own. Among the leading companies industry-wide, CITIC Trust Co., Ltd. adopts a similar model to an investment bank; Ping An Trust Co., Ltd. chooses a model combining financial services and PE investment; Hwabao Trust Co., Ltd. belongs in the dependent securities investment model, and China Resources Trust Co., Ltd. takes the Sunshine private equity model. Amid increasing competition, COFCO Trust has been trying to explore varied development models.
"COFCO Group's entry into the trust industry is to promote its main business through expanding the financial means, in other words, to realize 'a combination between production and financing'. The group has set our strategic position as an investment management platform for financial equity, a practice platform for agricultural financing and a socialized wealth management platform." Xin Wei said, "COFCO Trust functions internally as a service and practice platform for agricultural financing and externally as a socialized wealth management platform. As a financial enterprise, COFCO Trust will be, first of all, responsible for its clients and work to maximize interests of beneficiaries; COFCO Trust will also serve to realize the strategic objectives of the global industry chain on the basis of the group's agricultural background. For us, cooperation with the group's whole industry chain will provide us with a practice and exploration platform for agricultural financing ser vices, which helps to make full use of our characteristics and competitive advantages, provided that legal and regulatory requirements are fully complied with."
According to sources, since its founding, COFCO Trust has grown rapidly to "build an investment management platform for financial equity, a service platform for agricultural financing and a wealth management platform backed up by COFCO Group's industry-wide edge and the trust's system edge". Currently, COFCO Trust has 40 billion Yuan in the amount of entrusted assets and has carried out fruitful work in agricultural financial services, asset securitization, IP financial services and other areas. COFCO Trust has also a number of special trust products, such as land transfer trusts, supply chain financing trusts and proprietary innovative IP financing trusts.
"Respect for industry characteristics and combination of our industry advantages is the principle we follow in opening up new areas of trust businesses. We have assembled an elite team comprising doctors and masters with financial and legal background. We firmly believe we are able to do something in the IP financing services if we maintain the traditional advantages and continuously strengthen our expertise in the emerging fields", said Xin Wei.
Transition from Debt Investment to Equity Investment
According to reports, based on the initial success of the Project, COFCO Trust will gradually issue entrusted funds projects combining debt and equity investment to target high-tech SMEs, and grant loan supports and follow-up equity investment to high-tech projects with independent innovation capacities and high growth potential.
Xin Wei said, "Our next goal is to shift our arrangements from debt preference to equity preference. Initially we focus on the relatively safe debt investment to provide investors with relatively stable income. As we deepen our relationship with investors, we shall shift from debt to equity. The mezzanine financing in between the two, a typical example of which is the convertible bond financing, can be used as a transitional arrangement."
"An investor may give up short-term gains to pursue opportunities arising from the high growth of enterprises, provided that the investor is capable of ensuring the safety of principal. After our continuous searches for enterprises, we combine the traditional industry with capital markets, the trust's strengths with needs of enterprises, so that we may help investors share the growth value of enterprises, increase their growth value for more gains." Xin Wei said, "During the process, the profits of trust companies will come initially from the fixed income model of trust remuneration and then from the model of a combination of fixed income and over allocation. Certainly, it must be a process of 'small and quick steps', and in no way of a 'Great Leap Forward'. And we have to work step by step."
Talking about this point, Xin Wei emphasized that either VCs or PEs in China focus more on the obtainment of interests prior to the listing of the invested enterprises and don't seriously think about how to help the enterprises achieve higher growth value. In foreign countries, however, it is just the opposite. For example, many US institutional investors have a thorough understanding of the industry technologies in which they participate, that is the reason behind Facebook which has grown rapidly from a mere USD 50,000 small company into a large corporation with dozens of billions in assets.
"We believe that we need to make further research to scientifically assess the market value of IP and properly determine the proportion and role of IP in the corporate value. But one thing is for sure, IP trusts have a broad prospect and great promotional value. COFCO Trust will continue to work in the area and gradually issue follow-up products." said Xin Wei.
(Translated by Wang Hongjun)
Are we able to stop our rivals from obtaining authorization of a patent application that we regard as having substantial defects during the substantive examination, given the fact that the rival companies hane already published their patent applications?