The difficulties in execution of court rulings should be basically overcome in no more than three years, said the head of China's top court.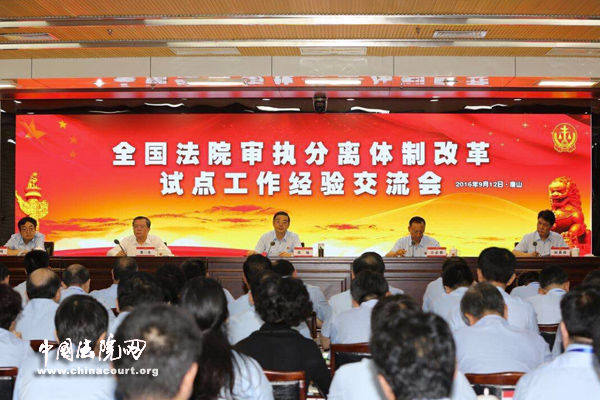 Zhou Qiang (middle), head of China's top court addresses the seminar in Tangshan, Hebei province, Sep 12. [Photo by Li Na/chinacourt.org]
Zhou Qiang, chief justice and president of the Supreme People's Court, made the remarks when attending a seminar on separation of trial and execution procedures in Tangshan, Hebei province on Sep 12.
The SPC has directed the pilot program on that matter in several places across China, including the Tangshan Intermediate People's Court and high courts in Beijing, Shanghai, Jiangsu and Sichuan, Zhou noted.
These pilot courts have seen a large increase in closed judgment enforcement cases on a year-on-year basis and greatly improved the quality and efficiency of court rulings, he added.
Zhou said these courts have provided replicable experience for Chinese courts through information technology and innovative thinking.
Zhou said the advancement of reform should be problem-oriented and emphasized the standardization of judgment enforcement to better safeguard litigants' legitimate rights and interests.
Proper recording of judgments is a must, since procedures can be kept as evidence and be supervised, according to Zhou.