An English-language version of a website operated by China's top court will make it easier for foreigners to learn how the country's courts make judgments.
It will also provide them with information about related judicial documents.
"We need to introduce the verdict website in English, as disputes involving foreign litigants are rising rapidly, and to assist in the preparation of related work," said Li Liang, director of the Trial Management Department at the Supreme People's Court, on Tuesday.
Although verdicts must be written in Chinese to comply with the law, "We'd like to provide foreigners with a better guide in English on the website if they need to search for verdicts and related judicial documents", Li said.
He said some courts in coastal regions, such as Zhejiang and Jiangsu provinces, have been looking to provide foreigners with legal services amid an increasing number of foreign-related cases in these regions.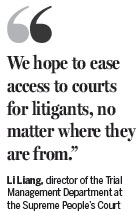 "We hope to ease access to courts for litigants, no matter where they are from," he said, adding that the English-language version would be based on the Chinese website that covers verdicts.
Since July 2013, the Chinese version has attracted more than 2 billion visits, including 500 million from overseas, and has published more than 20 million verdicts, according to the top court.
Liu Xuewen, a member of the court's Judicial Committee, said the website helps users who register to search for and download verdicts.
"This is an effective way to improve judicial transparency," Liu said.
To better regulate disclosure, the top court also issued a revised rule on Monday to clarify how verdicts should be released and the types of judgments that should not be disclosed.
From Oct 1, when the new rule takes effect, all verdicts should be open to the public online within seven days, and the range of disclosures will be expanded.
"In the past, some courts did not release initial rulings on the website as there was no unified standard on disclosure," Li said. "But starting in October, judgments made at any stage will be released."
The rule makes it clear that verdicts relating to divorces, offenders under age 18 and State secrets are exempt from disclosure.
Litigants' personal information, such as home addresses, bank account details and numbers of car registration plates or identity cards, should be deleted from the verdict, the rule states.
Huang Jin, president of China University of Political Science and Law, praised the new move, but said some courts are too conservative in making administrative and criminal verdicts public.
Of the 20 million verdicts published since July 2013, 3.6 million related to criminal cases, while 680,000 involved administrative cases, Huang said.
The website should also supply a channel for people to report suspected flawed verdicts or improper disclosure promptly, he said.
caoyin@chinadaily.com.cn
(China Daily USA 08/31/2016 page4)