Transparency and practicality have been highlighted as the new working style for the Central Commission for Discipline Inspection, China's top disciplinary body. Before the 18th National Congress of the Communist Party of China in 2012, the public knew little about the CCDI or its work, said Xia Jinwen, Party secretary of Zhenjiang, a city in the eastern province of Jiangsu.
There were no specific guidelines to indicate how disciplinary officers should conduct their investigations, he said. "After the 18th congress, we established guidelines to clarify the responsibilities and duties of disciplinary officers and improve their work," Xia said, during a roundtable discussion with members of the CCDI in October.
"As the Party chief of Zhenjiang, I was ordered to implement the 13 items in the guideline, such as supervising and leading the department's inspections, and ensuring that my colleagues study the work evaluation standards," he said.
"Our work has now been clarified. For example, the list stipulates what I should do in the first four months of every year, and how frequently I should talk with my subordinates."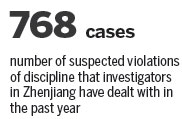 Xia said the guideline had made a major contribution to the battle against corruption by imposing higher standards for disciplinary officers. In the past year, investigators in Zhenjiang have dealt with 768 cases of suspected violations of discipline - an euphemism for corruption - or illegal work-related activity, he said, adding that the use of public funds to pay for private travel, meals and cars been has almost eradicated. Chen Xinyou, a senior editor at the CCDI's internal newspaper, said greater transparency has improved the department's work. "Many years ago, if you stood at the gate of the country's top disciplinary department, there was no indication of what it did, and the gatekeepers would not tell you. Everything was a secret and there was no way the CCDI would share details of how it dealt with cases," said Chen, who has worked for the commission for more than 20 years. "But since 2012, our work has no longer been mysterious. We've opened the doors and invited visitors from home and abroad to visit and understand our work," he said. An early indication of that greater openness came in May 2013, when the CCDI invited politicians from 14 countries, including the United States, to visit its headquarters, he said. Four months later, the commission established an official website where it shares information about its work, including details of its 27 sub-bureaus and their responsibilities, and the punishments meted out to officials found guilty of graft. "Now, the penalties levied on corrupt officials, the investigators' working methods and the rules governing disciplinary departments are available online," he said, adding that the public can report suspected officials via the website. The moves are intended to make the commission's work more transparent, which will help to ensure that the Party is free from corruption, he added.
(China Daily USA 07/04/2016 page6)