Yang Hua
(chinadaily.com.cn)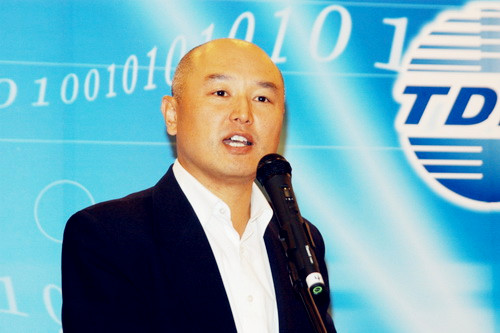 Yang Hua, President of Beijing Time Mobile Communication Industry Association, Secretary General of TD Industry Alliance
Yang Hua, President of Beijing Time Mobile Communication Industry Association, Secretary General of TD Industry Alliance
Yang Hua studied at the Air Force Engineering University from 1978 to 1982 and majored in radio. He also holds a bachelor's degree in engineering and a master's degree in management. Yang is an expert that receives an allowance from the State Council.
Wang initially worked on quality management and product development projects related to TD-SCDMA at the Institute of Telecom Science and Technology in 1999. He then served successively as an office director at the Technical Data Digest (TDD) Department in the Institute of Telecom Science and Technology, terminal project manager of TD-SCDMA, general manager of science and technology development in the Datang Telecom Technology Industry Group, and senior vice president of the Datang Mobile Communications Equipment Co Ltd. He was responsible for the group's business strategy, market development and industry promotion.
In October 2002, he was elected secretary general of TD Alliance. As a firm supporter and practitioner in the TD industry, his work has contributed to promote the advancement and development of the TD standard. He has also been influential in appealing to the government to formulate major industrial policies for the development of the TD industry. He has helped promote industrial coordination and management as well as resource sharing and mutual collaborations among different enterprises. He also accelerated the formulation of a unified management policy of intellectual property rights within the alliance.
Using innovative work models, TD Alliance is an industry association that promotes the industry. The organization spearheads new models to support the high-tech industry's development.
Edited by Chen Zhilin and Michael Thai
| | | |
| --- | --- | --- |
| | | Niu Wenwen is the chief editor, president and publisher of Entrepreneur magazine. |
| | | |
| --- | --- | --- |
| | | Secretary general of the Brand China Industry Union |
| | | |
| --- | --- | --- |
| | | Director & General Manager of Northern Light Venture Capital |