Sinovel Wind Group Co Ltd
(chinadaily.com.cn)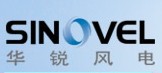 Sinovel Wind Group Co Ltd is China's first specialized high-tech enterprise engaged in the independent development, design, manufacturing and marketing of large-scale onshore, offshore and intertidal wind turbines.
In recent years, Sinovel has leapt-forward in development. The newly installed wind power capacity of Sinovel has increased three times in the past 3 years, from 1,403MW in 2008 to 4,386MW in 2010. Its ranking rose to the second place from its previous seventh place in the international wind power industry. Sinovel has headed the Chinese wind power industry for three consecutive years.
With the localization of major technical equipments, the company's goal is to supply clean energy for the world. Its core corporate culture is the idea of "Challenge, Innovation and Transcendence". The company's long-term development strategy is the technological innovation, localization, scale production, international expansion and service integration.
Sinovel has created many milestones and miracles in the wind power industry in China:
Sinovel is the first in China to have introduced international advanced MW-level wind turbine technologies and developed the 1.5MW series of wind turbines adaptable to a variety of wind resources and environmental conditions worldwide.
In addition, it is the first in China to have built an optimized supporting industrial chain for the localization of MW-level wind turbines, achieving scale production of localized MW-level wind power turbines.
Sinovel is the first to have realized the mass production of the global mainstream 3MW series of onshore, offshore and intertidal wind turbines with internationally advanced technologies. It holds independent intellectual property rights.
Sinovel is the first to have finished the development and production of China's first 5MW and 6MW wind turbines with independent intellectual property rights.
Sinovel supplied all the 34 sets of 3MW wind turbines for the Shanghai Donghai Bridge Offshore Wind Farm This is the first offshore wind farm built outside Europe and China's first demonstration offshore wind farm. All the turbines have been put into operation and combined to the grid.
Sinovel is building the National Energy Offshore Wind Power Technology and Equipment Research and Development (R&D) Center, which has the world's cutting-edge technologies, state-of-the-art equipments and leading R&D and laboratory capabilities.
| | | |
| --- | --- | --- |
| | | Yin Weidong is the Board of Directors (BOD) Chairman of Sinovac Biotech (Hong Kong) Ltd. |
| | | |
| --- | --- | --- |
| | | Chairman of the Board and General Manager of Beijing Dabeinong (DBN) Technology Group. |
| | | |
| --- | --- | --- |
| | | Liu Tianwen is the founder, chairman and CEO of iSoftStone Holdings Ltd. |