In Chuzhou, you must not miss out on the local traditional snacks like Crisp Hu Cake and Tianchang Snow-Flake Cake. In Langya Mountain tourist resort, you can enjoy the special vegetarian diet at the Jixin room which is north of the Great Buddha's Hall. Chuzhou Langya halva is also fine, smooth, sweet, crisp and delicious. Fengyang is a place you cannot miss, as it is the former home of Emperor Chu Yuan-chang (1328–1398). At Fengyang, you'll also get to enjoy Fengyang Tofu and enjoy the Fengyang Drum show. You're guaranteed to have an amazing time.
Located in the east part of Anhui province, the food and drink of Chuzhou is influenced by Yanjiang's Hui Cuisine with its salty flavor and fry method of cooking. Chuzhou city is near Nanjing, so the cuisine there also reflects characteristics of Huaiyang cuisine, carrying forward the cooking methods of stew, simmer burn and warm up, stressing the characteristics of the original flavor of the chosen material.
Fengyang Tofu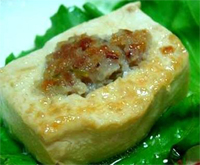 Smooth Tofu, tender meat and crisp appearance form the unique flavor of the dish.
Preparation method: Use fresh tofu as raw materials, cut them into pieces, add some pork, shrimp and other materials. Wrap it with egg powder, fry in the pan until the color turns golden yellow, and then mix it with sweet and sour sauces, The tofu has characteristics of milk yellow color, a crispy outside and tender on the inside.
Legend: The emperor Chu Yuan-chang, from Fengyang, came from a poor background. One day, he begged in local Huangji Restaurant and got a bowl of Tofu. It was so delicious that he could not forget it. Later, when he became the emperor, he called in chefs from Huangji Restaurant to prepare the tofu for him.
Machang Crispy Hu Cake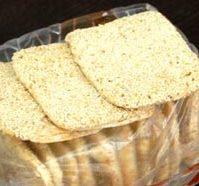 The "Hu" is a tablet used by ministers in ancient times to jot down notes of importance, just like today's notebook. The cake looks like a "Hu" and is crisp, hence the name crisp Hu cake.
Main materials: Flour, cooked sesames.
Brand name: Quanjiao Machang Crisp Hu Cake
Characteristics: Delicious, best when enjoyed with tea.
Literary quotation: At the beginning of Ming Dynasty, the originator of Crisp Hu Cake was a military minister. To pray for safety, he produced Crisp Hu Cake which was prosperous for so long time.
Tianchang Snow-Flake Cake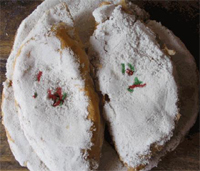 Introduction: main products are Tongcheng Cake and Longgang Cake.
Preparation method: Firstly, fry the glutinous rice flour, keep it for two months, mix the glutinous rice flour, lard, sugar, water in proportion, stew to done, requiring a very precise level of cooking.
Characteristics: Color as white as snow and is sweet and soft.
Mei White Fish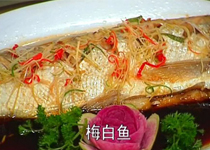 Introduction: Meishi city is located at the intersection of three counties--Dingyuan, Fengyang and Jiashan. Mei White Fish comes in a various shapes has a flat head and has a small body with bright eyes, white in color and its meat is tender. The fish tastes extremely delicious. The fish is used as a tribute in the Ming Dynasty.