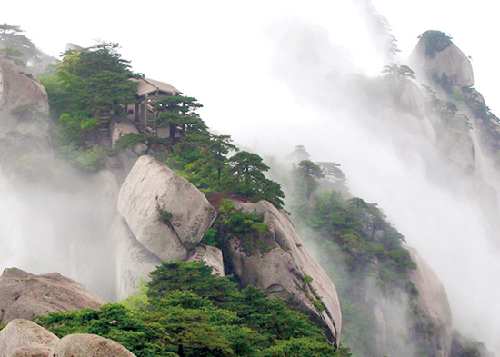 Tianzhu Mountain is located in Qianshan county, Anqing city. Its highest peak—Tianzhu Peak (1,488.4 meters above sea level)—rises high into the clouds, just like a pillar holding up the sky, hence the name Tianzhu (Heavenly Pillar) Mountain. It is a key national scenic and historical interest site, a national forest park and a national geological park.

 Admission ticket price:
  150 yuan at peak season (Mar 1--Nov 30)
  110 yuan at off-peak season (Dec 1--Feb 28)


 One-way ticket price for cable car:
  40 yuan


 Tel: 
  86-556-8938-892


 Website: 
  http://www.tzs.com.cn/
The scenic area covers an area of 82.46 square km and consists of eight different parts. The scenery in the mountain, combining the loftiness of the mountains north of the Yangtze River with the delicacy of the mountains to the south, can be portrayed as "mighty peaks, queer rocks, tranquil caves and emerald water". There are 42 peaks, each covered by green pines and slender bamboos and strewn with strangely-shaped stones, mysterious caves, flying waterfalls and deep pools. Besides the picturesque natural views, it is also rich in historical sites. They include the Mysterious Valley (known as "the first granite mysterious place"), the Sanzu Temple (the ancestral temple of the third generation of Chinese Zen), petroglyphs in the Ancient Shiniu Cave (i.e. Stone Cattle Cave, known as a wonder of the world), drifting on the Qianhe River (known as "the first drifting on the Yangtze-Huaihe rivers") and Liandan Lake (the third largest man-made mountain lake of China).
Since ancient times, these natural wonders have appealed to many great men of letters, such as Wang Anshi (1021-1086), Su Shi (1037-1101) and Huang Tingjian (1045-1105), who left behind many beautiful poems. The area has also given birth to Cheng Changgeng (1811-1880), founder of Peking Opera, Zhang Henshui (1895-1967), a great master of the chaptered novel, Xia Juhua, queen of acrobatics, and Han Zaifen, a new actress of the Huangmei Opera.