Located at the downtown of Hefei, the hotel is only ten minutes' walk away from the scenery spots, such as Xiaoyaojin Park and Memorial Temple of Bao Zheng (an upright and respectful official in Song dynasty). It is under the administration of Inter-Continental Hotels Group.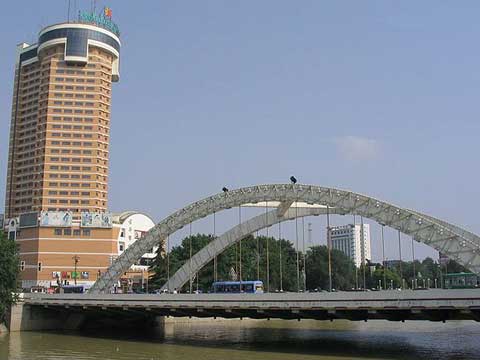 The guest rooms consists of suites, apartments and presidential suites with the offering of internet, air conditioner, mini-bar, refrigerator, international satellite TV, etc. Three restaurants featuring different cuisines offer you buffet of Chinese and western styles at the revolving restaurant of 29th floor, bird's nest, abalone and fim at Xiangji restaurant of 3rd and 4th floors and noodles and snacks at the noodle house of 2nd floor. Scenery corridor of 5th floor provides you coffee, tea, cakes and snacks. Charles Bar presents you live shows of bands and singers.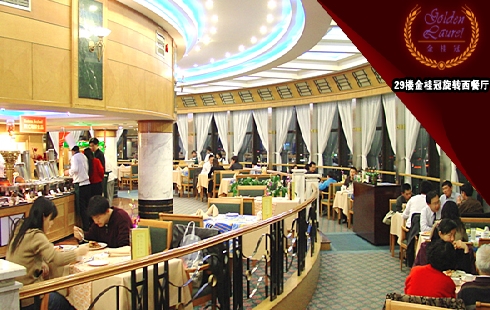 Golden Laurel Revolving Restaurant
Four conference halls are there. One of them is the multi-functional hall with the accommodation of 300 persons or a banquet of 22 tables. Fitness and entertainment centers are also provided.
| | | |
| --- | --- | --- |
| Place of departure |          Location | Miles to the hotel |
| Airport | Luogang airport | 10 miles |
| Railway station   | Hefei station | 2.5 miles |
| City center | Huai River Road | 0.5 mile |
|   | Hui Garden | 20 miles |
|   | Memorial Temple of Baozheng | 1.5 miles |
|   | CBD shopping mall | 3 miles |
|   | Provincial museum | 2 miles |
Year of opening: 1998, remodeled in 2006
Tel: 0551-2206666
Fax: 0551-2201166
Number of rooms: 338
Price of buffet breakfast: RMB 90