Gujing Gong Liquor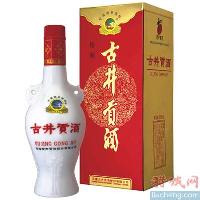 Produced in Bozhou, Anhui province, Gujing Gong Liquor is one of the top alcoholic beverage brands in China.
Gujing Gong Liquor has a long history dating back to the Southern and Northern dynasties (420-581 AD). When the local people found a well ("Gujing" in Chinese) with clean and sweet water, they began to use the well water to make alcoholic beverage. The following dynasties witnessed the rising popularity of the alcoholic beverage and it was in the Ming Dynasty (1368-1644) that Gujing Gong Liquor was sent as a tribute to the royal family (here comes the word "Gong", meaning tribute).
Today, Guijing Gong Liquor is a well-known brand of the Bozhou-based Gujing Group. Taking the local wheat, sorghum, and underground water as brewing materials, Gujing people continue the glory of their predecessors.