1. Luzhou Roast Duck

When you come to Hefei, the Luzhou Roast Duck must be the first recommended cuisine by the local tour guide. Luzhou Roast Duck originally was served to the royal court as the imperial dish. Until the period of Ming Dynasty (1368-1644), this cuisine could be found being cooked by local families.
You will be attracted by the duck's golden yellow shininess, crisp skin and tender meat. Compared to Beijing Roast Duck, it has moderate fat and salt, rich taste, and plenty nutrients.
In 1987 it was awarded to be the excellent food by Anhui province and commercial ministry. In 1983, it got the gold medal of the first session China Food Expo.
You might find the famous Luzhou Roast Duck Shop at No.107, Suzhou Road, and No. 1072 East Changjiang Road (Tel: 86-551-4299869).
2. Li Hongzhang Hodgepodge
It's a popular dish named after Li Hongzhang (1823-1901), a top official of the late Qing Dynasty (1644-1911) from Anhui province, who made strenuous efforts to modernize the country that ended in several major rebellions. He became a leading figure in China's relations with the Western powers.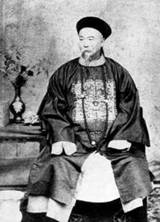 Li Hongzhang
It is said that when Li Hongzhang visited the United States, he invited some American friends to have dinner. After the entrée, Li mixed together all the ingredients he had left over and cooked up a new dish. All his guests praised the delicious concoction, and asked Li for its name. Li told them, in his distinctive Hefei dialect, that the dish was called "Zasui," or "hodgepodge" in English. From then on, the dish was known as "Zasui," or "Li Hongzhang Hodgepodge," and became popular in both the U.S. and China. Its main ingredients include sea cucumber, fish maw, squid, bamboo shoots, dried beans, chicken, ham, egg yolk pudding, and pigeon eggs, liver and so on.