LOS ANGELES - Actress Jennifer Lopez said Wednesday that only time can show the path through the thicket of fame, alluding to a recent spate of young Hollywood actresses on the wrong side of the law.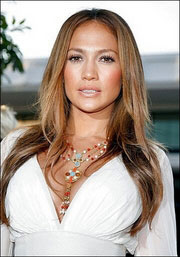 "Nobody has a handbook for fame. It's no easy thing to deal with," Lopez said in a Beverly Hills hotel, where she and her husband, Marc Anthony, spoke to reporters about their film "The Singer," a biopic about Puerto Rican salsa singer Hector Lavoe, to be released Friday.
"You've got to have good people around you," said Lopez, a New Yorker of Puerto Rican origin, who came to depend on her family in difficult times.
"When I sat down for a second and ... had a mature thought about it, I realized it was my responsibility if I didn't want it to be that way," she said.
Lopez, 38, with three marriages to her credit, did not mention any of the three actresses whose drunk driving escapades have made recent headlines.
Reality television star Nicole Richie was sentenced to four days in jail a week ago, after pleading guilty to charges of driving while intoxicated.
Richie's co-star on the reality show "The Simple Life," hotel heiress Paris Hilton, served 23 days in jail in June in Los Angeles for violating probation by driving with a suspended license.
And, last month, Actress Lindsay Lohan was arrested in California for drunk driving and cocaine possession.
"It's the first experience to become famous, when you realize that you don't have more anonymity and people are looking at everything you do ... it's like to be in high school," she said.
"When people are talking about you, you see your pictures everywhere and that makes you shake and shiver a little bit and get anxiety ... and makes you want to escape your own skin, It's such a weird experience that you can't explain to everybody," she said.