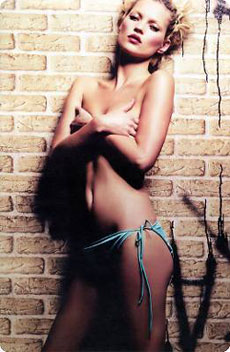 Kate Moss
Kate Moss has the best limbs, Beyonce has the best butt, and Martine Mccutcheon has the best boobs--according to the findings of a survey conducted by Reveal magazine in the UK.
The magazine showed pictures of celebrity bodies in bikinis to 1000 lads on the UK streets, asking them to rate all the celebs in the pics, reports the Sun.
The survey revealed that Moss along with the best lithe limbs also has stunning thighs.
Superstar singer Beyonce, who proved that one doesn't have to be skinny to be sexy, won the maximum votes for best bum.
And curvy actress Martine won the title for best boobs.
Surprisingly glamour girl Jordan only received 10 per cent of the vote for best breasts.
And in terms of best overall body, the Scots, Irish and guys in the Midlands all opted for Martine.
However, the Welsh and those in the North opted for Wayne Rooney's wife Colen Mcloughlin, but not enough to get her the saucy title. (ANI)