Beckhams shell out 7, 200 dollars so little girl can sleep

Updated: 2006-10-25 09:32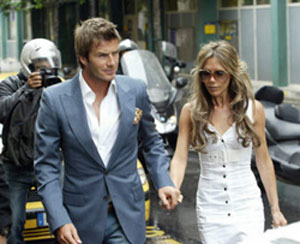 Former England captain David Beckham and his wife Victoria have reportedly shelled out 7, 200 dollars to buy a special bed for a six-year-old girl with a rare medical condition, so that she can sleep at night.
Alice, the girl, suffers from microcephaly, which means that she still has the mind of a baby.
Her mother, Joanne Lee, wanted to buy the expensive bed for her, but was unable to raise the funds.
In a last ditch attempt to secure the cash, she wrote to the former Spice GirlĄ¯s mother, Jackie, and the Beckhams immediately agreed to spend for the bed.
"I decided to write to Jackie on the off-chance, but I didn't think I would ever hear anything back," Contactmusic quoted her as saying.
"Then I got a call and a voice said, 'This is Victoria Beckham's mum.' I just couldn't believe it. I was jumping around. It has given me new respect for the Beckhams," she added. (ANI)