Pink elephants, cockroaches star in LA art show
(Reuters)
Updated: 2006-09-16 10:39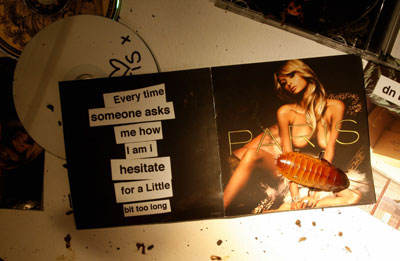 A live cockroach is shown on an artistic interpretation of Paris Hilton's music CD at an exhibition by British underground artist Banksy titled "Barely Legal" at a warehouse near downtown Los Angeles September 15, 2006.[Reuters]
LOS ANGELES (Reuters) - A live Asian elephant, painted in pink and gold, stands in a makeshift living room.
Giant cockroaches swarm over copies of Paris Hilton's pop CD. A dummy angel wearing a gas mask and a white parachute flaps in the blue skies.
Even in free-wheeling Los Angeles, they'd never seen anything quite like this.
British graffiti artist and prankster Banksy opened his first Los Angeles show on Friday in an obscure warehouse in industrial Downtown, bringing his subversive humor and anti-capitalist message to a city better known for wealth and self-obsession.
"Barely Legal," a free three-day event billed as a "vandalized warehouse extravaganza," opened with the excitement and puzzlement that has come to be the hallmark of the elusive "guerrilla artist."
Banksy keeps his identity secret but has built up a cult following in Europe over the last four years, placing his work in top museums, zoos or on the streets.
"It is really amazing. I think he is hilarious," said Los Angeles graphic designer Manny Skiles, 30, who has spent two years following Banksy's work mostly through the Internet.
Skiles and dozens of others spent more than an hour lining up to buy $500 limited print editions of Banksy's work. The originals sell for up to 25,000 pounds sterling.