North Korea seeks cures in blueberries
(AP)
Updated: 2006-08-23 11:10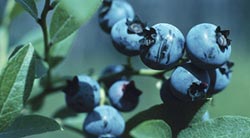 North Korea is seeking a cure for heart and blood diseases in the woods, sending its scientists to probe the healing power of blueberries.

"The government has taken measures to deepen the research into blueberries," the North's official Korean Central News Agency reported Tuesday, citing the fruit's effectiveness in "lowering cholesterol content in the blood vessels, liver and kidney as well as preventing and curing heart and blood diseases."

The report claimed the berry's "sterilizing power" was also potent in treating internal diseases, and for remove poisoning by heavy metals and drugs.

KCNA said the blueberry was a special product of Mount Paektu - the highest peak on the peninsula, where the North claims its leader Kim Jong Il was born - and claimed wine made from blueberries harvested at the mountain was one the country's famous spirits "popular at home and abroad."