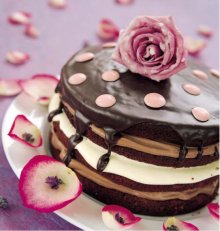 There are few foods which evoke the same emotional response as chocolate. Chocolate is sometimes subtle, sometimes bold, but always enticing and gratifying with the highest 'feel good' factor of any food.
So it's no co-incidence it has heavenly connotations. The word comes from the 'cacao' bean which translates directly as 'food of the gods'.
They say you can't have too much of a good think if the good thing is chocolate! Wise words about an irresistible and delicious treat which has been purported to be everything from an anti-depressant to an aphrodisiac.
To celebrate chocolate¡¯s pinnacle position in the culinary food chain, a festival has been organised by the Central City Improvement District (CCID) and the V&A Waterfront to celebrate all things chocolate. From the 3-8 July, the City Centre will come alive with the smell, taste and passion for chocolate.
The Chocobloc Festival will see participating restaurants celebrating chocolate with imaginative and deliciously decadent chocolate recipes.
A chocolate challenge has been issued to eateries to use their imagination and come up with new chocolate combinations to create their ¡®signature¡¯ chocolate dish or drink. The 'chocolate d' la chocolate' of chocolate creations - as judged by a panel of chocoholics, sponsors and chefs ¨C will receive recognition from the CCID and be listed in the 'Eating Out In Town Guide'.
And the good news is that the chocolate-loving public is invited to join in during the week of chocolate celebration.
According to Josephine Swainbank, marketing manager of CCID, chocolate is one of the hottest culinary trends.
"It is both delicious and versatile and chefs are experimenting more and more imaginatively with chocolate combinations. It has also become fashionable to pair chocolate with wine to complement the bouquets and flavours.
"People don't just like chocolate, they are usually absolutely and completed enamoured with, and addicted to, this food. Nothing makes one feels quite as good as eating chocolate - having it melt in your mouth. For this reason we decided to put together a chocolate festival and encourage eateries to use their imaginations and create new chocolate recipes for tasting."
All the chocolate being used during the Chocobloc Festival is being sponsored by Orley Foods, well known supplier of couverture chocolate to the trade. During its 40 year history Orley¡¯s range of bakery and food service ingredients include, amongst them, chocolate chips, confectionery spreads, decorative vermicelli and fondants.
"The good news for chocoholics is that chocolate is not only delicious, but good for you too," says Swainbank.
"Apart from its minerals and vitamins, dark chocolate possesses the highest antioxidant content of any food. Together with flavonoids, this boosts the good HDL cholesterol levels. Green tea, black tea, red wine and blueberries all contain flavonoids, but none is as high as chocolate. So indulging in chocolate at the Chocobloc Festival is not only good for the senses and soul but good for your health too!"