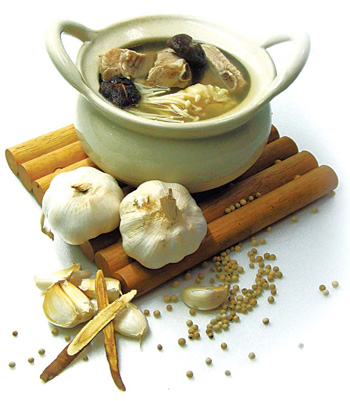 Bak kut teh, or pork ribs tea, is one of the 10 best-loved dishes of food-centric Singapore. Photos by Pauline D Loh
Pork ribs tea is a dish with history. It was the food of young men who left China for Nanyang with nothing more than the shirts on their backs and determination in their pockets. Pauline D Loh has the story
In a dank, dark museum in Singapore's Chinatown, columns of fly-spotted, sepia-stained photos document the first hard days of the Chinese immigrants. They appear to be a sun-scorched, skinny, penniless lot - part of the continuing diaspora forced overseas by poor harvests, floods and famine along the southern coasts of China.
Mostly men, they worked as "coolies", or laborers for hire, but many were indentured and sold like livestock to the tycoon bosses along the riverside warehouses. In fact, they were called "piglets" in the local patois.
As they labored hard and long, there were few home comforts. They slept in bunk beds piled three high in windowless rooms, and ate from communal kitchens manned by a roster of tenants. But the daily toil continually sapped their strength, and they had to have good food.
Some of these laborers, talented in the kitchen arts, soon saw opportunity in the need and started little mobile hawker stalls along the warehouse strips along the river. They sold a hearty soup made with pork ribs, served with rice and a bowl of tea.
It was a fast food combination that suited them. It had soup, it had rice, it had meat and it had tea. It was called bak kut teh, or pork ribs tea.
My grandfather started out in life as one of those second-generation laborers along the Singapore River. With his bare hands and nothing more than mulish determination to succeed, he built an empire of bumboats that would service the entrepot trade of Singapore in the 1950s, 60s and 70s. He was also an old Fujianese who loved his pork ribs tea.
Pork ribs tea has no actual tea leaves in the dish. Instead, it is a soup that is served with a pot of tea by the side. And considering that Fujian grew some of the best tea in China, it was a tribute to home with every sip.
The dish is also a classic example of how Chinese exercise balance in food and cooking.
Pork ribs were the off-cuts, bones with just a thin layer of meat. It was cheap meat. Cooked with plenty of garlic and white peppercorns, it provided sustenance.
Garlic helped the laborers fend off infections, and the heat of the white peppercorns helped them perspire and sweat off the heat and humidity 10 degrees north of the Equator.
The meat, what little there was on the bone, was satisfying, the soup was tasty and helped chase down the two or three bowls of rice they polished off at each meal. And after the soup was drunk and rice was eaten, a little pot of tea cleansed the palate and helped the digestion.
It's been almost a century since, and the laborers, bumboats ferrying supplies to ships, and warehouses, are fading memories, nudged aside by the inexorable progress of modernity.
These days, well-heeled senior executives and their well-fed families still enjoy what was previously poor man's food. The dish, too, has undergone a metamorphosis, with bigger chunks of prime ribs, liver and kidneys, mushrooms, vegetables and herbal variations to the soup.
It is also one of the 10 best-loved dishes of food-centric Singapore. But this dish, and this dish alone, recalls the early days when the city was built from the ground by the blood, sweat and tears of its pioneer citizens - the old immigrants from China.
(China Daily 12/25/2009 page19)