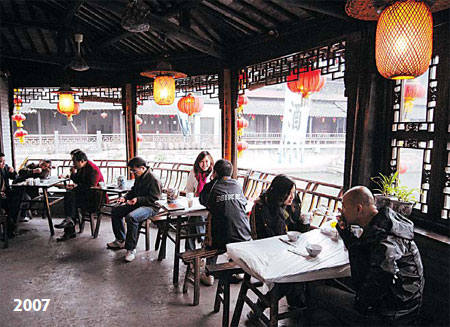 December 2008 marks the 30th anniversary of China's reform and opening up and last week, officials held an enormous meeting in the Great Hall of the People, to review and laud the dramatic changes that the nation has undergone.
But just a couple of blocks away from the meeting's venue, near ancient Beijing's southern gate, there are plenty of lesser monuments to the past three decades.
The market there has seen some of Beijing's earliest privately owned garment shops - then dazzling enough to claim to be fashion boutiques; its first McDonald's and KFC outlets; its first roadside newspaper boys and its first special bus service to bring domestic tourists to the Great Wall.
The subject of our black-and-white photo was also a first: the city's first teahouse in the 1980s. Before it was set up as Da Wan Cha, or Big Tea Bowl (not cup, as you can clearly see), there had not been a single teahouse in Beijing. Hard to believe that in the capital city of a tea-drinking nation there wasn't a single teahouse for the then-six million residents, but it was a plain fact; a given.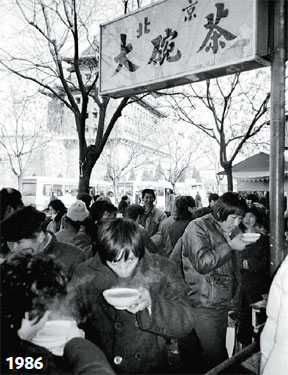 In a time of revolution, who would appear so aloof as to sit in a quiet place sipping tea?
The Big Tea Bowl later developed into quite a fancy place, where people could drink tea - and no longer from big bowls - while watching Peking Opera.
But when our 1986 photo was taken, to call it a "teahouse" was a euphemism. It was only a small shabby roadside tea stand where customers had no place to sit and could only stand on the pavement. But they hardly complained, while today's customers tend to complain much more often, and all were heartily drinking from their big tea bowls.
Those who tried the Big Tea Bowl can tell that except for being hot and cheap, the tea was nothing to write home about. It was just generic cheap tea at a time when there weren't nearly as many varieties of tea offered as today. Beijing's tea market street - Ma Lian Dao - was a much later phenomenon.
However, the very existence of Ma Lian Dao indicates how all the teahouses have developed into an industry. Otherwise there would not have been the demand for a street full of tea sellers.
As small enterprises, teahouses are flourishing across China, in large cities and small cities alike. In some cities, such as Chengdu, the teahouse business has become so rampant that they have almost become the city's trademark.
But our 2007 color photo was taken in a small city in the Yangtze River Delta where some of China's most famous green teas are produced. Teahouses have become an indispensable part of Chinese life by providing customers a relatively quiet place (in contrast to the clamor in restaurants) to read, relax, meet, date, or to simply do nothing.

(China Daily 12/22/2008 page1)