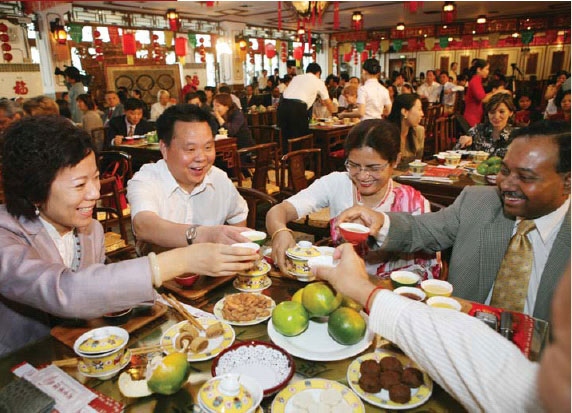 Southern Beijing's Chongwen district's cultural week reaches its climax this weekend as area's nationwide famous tea industry shows off its wares.
The district is home to famous tea stores such as Zhang Yiyuan, Lao She Teahouse, Ma Lian Dao Tea City, Beijing General Tea Corporation, and Beijing International Tea City.
The famous Liulichang cultural relics market area is also located inside the district, and famous stores such as Rongbaozhai, Beijing Cultural Relics Company, China Bookstore, and Hongbaotang will take part.
Zhang Yiyuan Tea Store, a 100-year-old brand-name, will set up tea exhibition counters at all of its stores across the city explaining how tea is made and the characteristics of different teas. Free tea tasting is on offer for visitors.
At its main store at 22 Dashila'er Jie, as well as Yansha store, customers can experience tea making and buy memorable pu'er tea cake.
On the afternoon of April 27, there will be a tea health lecture at the main store, in which health and nutrition experts will explain the benefits of tea.
The Lao She Teahouse has made a special five-ring tea to resemble the symbol of Olympics.
The teahouse will hold a tea sampling convention on Sunday morning to introduce the teas to tea retailers and teahouse owners.
The opening ceremony of Ma Liang Dao Tea City's 2008 Tea Culture Festival happens this morning.
There will be a calligraphy and painting exhibition at Beijing Chayuan Tea Palace (宣武区马连道南口茶叶一条街,茶缘茶宫), and a red ceramic teapot seminar from 2pm at the multi-function hall of Beijing Tea Palace.
Tea lovers are invited to sample tea, watch tea ceremony, and photos, paintings related to tea.
Beijing General Tea Company, Beijing International Tea City, and Ma Lian Dao Tea City are holding meetings and forums for people inside the industry, to discuss development and promotion of tea industry.
Rong Bao Zhai Cultural Relics Store at Liulichang will exhibit four treasures of the ancient Chinese study, namely, brush pen, ink, rice paper, inkstone as well other traditional stationeries, with favorable prices.
The store will put more than 150 paintings and calligraphy works of famous Chinese artists on show. There will be shows of wood engraving, watermarking, picture mounting and repairing, which are recognized as intangible world heritage.
Beijing Cultral Relics Company will exhibit fine porcelain and other relics at Guanfu Zhai (观复斋,西琉璃厂20号).
Nationally famous experts are invited to distinguish authenticity of relics on the mornings of April 26 and 27 at Qingyuntang (庆云堂) of the Company.
China Bookstore will showcase how to repair ancient books, and exhibit ancient Chinese books made by engraving. Today it opens a new ancient relics market at the south gate of Haiwangcun at Liulichang (琉璃厂海王村南门).
The new market is set in traditional courtyard architecture. The store holds an auction of ancient books and literature on the afternoon of April 26.
Story by Ye Jun & photo by Lu Zhongqiu
(China Daily 04/26/2008 page7)