The art of traveling
Updated: 2012-03-01 11:00
By Chen Nan (China Daily)
| | | | | | | | | | | |
| --- | --- | --- | --- | --- | --- | --- | --- | --- | --- | --- |
|   | | Comments() | | Print | | Mail | | Large Medium  Small | 分享按钮 | 0 |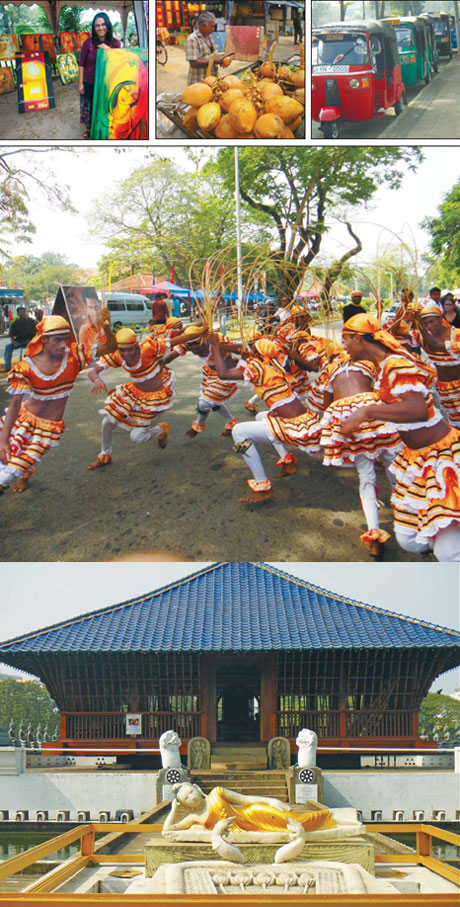 Clockwise from top left: Kala Pola is a showcase of artworks by prominent artists like Kalami Senanayaka, whose portraits express her passion for life; Visitors can cool down with coconut juice while walking around the 1-km-long Kala Pola art fair; Motor-tricycles offer the easiest and most exciting way to get around Colombo; Colombo's annual art fair is also filled with music and dance; Buddhist statues and temples can be found in every corner of the city. Photos by Chen Nan / China Daily
Colombo's annual street art festival, Kala Pola, is the perfect excuse to explore stunning Sri Lanka. Chen Nan reports.
A random walk in a city you visit for the first time is a good way to discover something not listed in the travel book. I found such surprises myself during a recent trip to Colombo, the capital of Sri Lanka.
I decided to avoid the bustling streets, full of fast motor-tricycles and buses, and went down a quiet alley with no name.
It was here that I was drawn to the city's tranquil beauty. The rivers are full of fish, and birds fly so low they could touch your shoulders. And since Buddhism is the island's major religion, there were Buddhist statues wherever I went.
At a temple, I encountered a newlywed couple. The wife wore a traditional Kandyan sari and the groom wore patta vetty, a shirt and sarong wrapped around the waist.
The couple told me they had just celebrated their wedding for two days - a modern ceremony at a hotel and a traditional wedding at home. They were now praying at the temple, which is customary.
Passing a tranquil corner of Viharamahadevi Park, the only large-scale public park in Colombo, which is next to the National Museum, I found Kala Pola, Colombo's open-air art fair.
Started in 1993 with just 35 artists, Kala Pola is Colombo's annual street art festival. The one-day event presents works by rising and prominent artists from all over the country.
In 2012, Kala Pola featured nearly 300 artists and sculptors. Open from 8 am to 6 pm, the event was filled with music, dance and, most importantly, art.

There were hundreds of booths covered by white tents. From oil paintings, woodcut paintings to sculptures made from recycled materials and handicrafts, every booth was like a mini art gallery.
Local artist Achala Gunawardana's artworks caught my attention because they bear some similarity to Chinese ink paintings. She says she went to China with her husband, who is also an artist, in 2010, to participate in an exhibition in Beijing's 798 art district.
The artist, who has opened a gallery, Art Way Gallery &Institute in Colombo, recently held a painting exhibition at National Art Gallery of Sri Lanka.
She was impressed by traditional Chinese painting and borrowed the techniques for her own creations. Her works celebrate Sri Lanka's natural attractions, such as the ocean, landscapes and local people.
"I was born and grew up here. I want to portray what I feel most connected to. That's how I keep inspired," the 40-year-old artist says.
Unlike Gunawardana, who is a professional artist, Kalami Senanayaka, 35, paints in her spare time for fun.
A mother of two boys, Senanayaka was inspired by her brother, whose artworks were also displayed at the Kala Pola art fair.
Her sketches are all self-portraits or of her sister-in-law. The simple lines and the use of red and yellow expresses her passion for life, she says.
"I gave birth to my oldest son when I was 18. I started painting when I gave birth to the second son. I want to capture the beauty of a woman, who has transformed from being a girl to a mother," she says.
"Usually, I paint in front of a mirror. Though the paintings don't look like me, the girls in the paintings are always smiling, just like me."
Gunawardana told me Sri Lankan people are born optimistic, despite the poverty. Beggars, students in white school uniforms and shopkeepers are always smiling, either shyly or warmly.
At the art fair, which is more than 1 km long, visitors can also enjoy local foods. The coconut juice goes well with sweet or salty corn.
An outdoor restaurant offers spicy curries, seafood and kiribath (milk rice). Two sculptures - of a boy and a girl - stand in front of the restaurant to welcome customers. Their "clothes" are made of carrots, scallions and cabbage, the hair is formed out of scallions, and the shoes are made of brown bread.
After a two-and-a-half hour tour at Kala Pola, I needed to cool down a bit, as the temperature was 32 C. Another 20-minute walk led to Alexandra Road, where a big shopping mall, Odel, is located. Here you can savor the trendy aspects of Sri Lanka, though you should beware of pickpockets.
Then there are Sri Lanka's famed beaches near Galbokka Point. You can walk along the coastline and visit Colombo Lighthouse, south of the Port of Colombo at Colombo fort.
Built in 1952 and opened by Rt Hon D.S. Senanayake, the first prime minister of Sri Lanka when the country was called Ceylon, the lighthouse is constructed on a concrete base, which is 12 meters high and has four lion statues at its base. The stretch of sand, unlike most sea resorts, was deserted, which brought to mind the TV series Lost.
But the southern town of Galle is so different. The city feels more European than Asian, owing to the fact that the tourism is developed. It's a jumble of quaint jewelry shops, cafes and guesthouses, and Dutch-style architecture.
To get there, hop on the train, which is so close to the shoreline that it felt like skimming across the water.