Common art in regional memory
Updated: 2012-02-27 15:20
By Zhang Kun (China Daily)
| | | | | | | | | | | |
| --- | --- | --- | --- | --- | --- | --- | --- | --- | --- | --- |
|   | | Comments() | | Print | | Mail | | Large Medium  Small | 分享按钮 | 0 |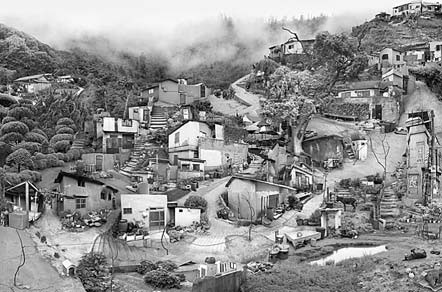 Won Seoung-won's work presents a landscape of traditional country life in South Korea.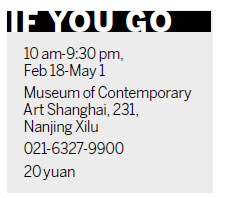 China, South Korea and Japan share much in culture, philosophy and values, and the three countries have had a long and sophisticated relationship throughout history. An art exhibition at the Shanghai Museum of Contemporary Art hopes to improve understanding by looking back at some shared memories.
"Nostalgia" was put together by South Korean curator Kim Sun-hee.
"Last year I went back to Seoul after living abroad for 12 years," Kim told the media at the opening of the show. A lot had changed, and reunion with old friends and families brought back warm memories. Then she was invited by the Korean Foundation, which is dedicated to promoting South Korea to the world, to put up an exhibition of contemporary East Asian art.
Kim wanted to make the show "happy, warm and comfortable", because too often, contemporary art can be cynical, bitter and cryptic for audiences.
When the show was presented in Seoul last year, 12 artists from China, Japan and South Korea were featured, and this year when it arrived in Shanghai, the large space of MoCa allowed her to include two more artists.
The exhibition brings together paintings, photography, video and more complex installations.
"The exhibition provides a strong disposition of a large country of China, a delicate sensibility of Japan, and a conceptual character with folk elements based on nature of South Korea," says Kim. "What has already become dull in West is being reinvented in a refreshing and exciting way in East Asia."
The exhibition aims to provide a cultural platform to cultivate closer ties between the three East Asian states in the "new Asian age" or "East Asian age," according to Kim Byung-kook, president of the Korea Foundation.
In 2007, top diplomats of the three countries agreed to make this exhibition part of the celebrations of the 20th anniversary of Sino-South Korean diplomatic ties and the 40th anniversary of Sino-Japanese diplomatic ties.
"Looking back is a way to look into the future," says Samuel Kung, chairman and director of MoCA Shanghai. "A new journey is born out of retrospection towards the future of contemporary art."
Tu Weicheng, an artist from Taiwan, created an interactive installation with handcrafted details that looks like an antique closet. He Tu incorporated clockworks that play simple melodies, and presented animated images relating to today's social life and news events.
"I call it archaeology narration," Tu says. "It looks antique but is totally contemporary." Audiences are encouraged to play with the installation and it was the most popular piece when the show was in Seoul, the curator says.
All three countries went through huge social changes in the 20th century, when their traditional arts were suddenly overshadowed by Western arts.
As Kim Sun-hee says: "We sort out our memory of the past ... It is a continuation of our tradition and a beginning of the future for East Asian arts on the global art landscape.."