Crazy for culture
Updated: 2012-02-23 09:46
By Zhang Zixuan (China Daily)
| | | | | | | | | | | |
| --- | --- | --- | --- | --- | --- | --- | --- | --- | --- | --- |
|   | | Comments() | | Print | | Mail | | Large Medium  Small | 分享按钮 | 0 |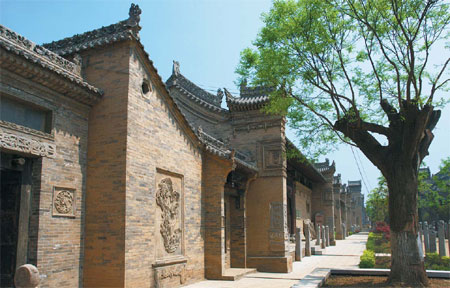 Relocated houses from the Ming and Qing dynasties line a street at the Guanzhong Folk Art Museum in Xi'an, Shaanxi province. Provided to China Daily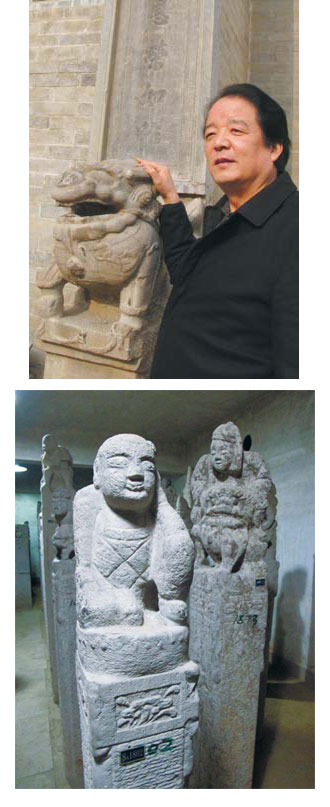 Top: Wang Yongchao stands beside a stone lion at his private museum. Above: Stone horse-hitching posts are collected at the museum. Photos by Zhang Zixuan / China Daily
A former billionaire has blown his entire fortune on saving old relics and houses, which he's turning into the country's largest private folk art museum. Zhang Zixuan reports.
Residents of Shaanxi province's Guanzhong thought Wang Yongchao was crazy. The former billionaire has sold all his seven companies and spent all his money on old daily-use items and shabby houses.
Some believe the things the 55-year-old has spent money on are not junk but rather are cultural relics. Hence, he stands to actually make more money.
Indeed, the items are cultural relics, but the part about them turning Wang a profit hasn't turned out to be true.
Wang has instead transformed the 33,600 items and more than 1,000 rooms of 40 courtyard homes into the country's largest private folk art museum.
Wang's virtually monastic lifestyle, in terms of his diet and attire, conceals his previous wealth.
But his determined manner of speaking remains like that of a tycoon.
Wang never went past high school, so he doesn't have any expertise in archeology or antiques.
And the seven companies he ran were in sectors that have nothing to do with culture, such as real estate and municipal drainage.
"But I love history and admire the heroes who made it," Wang says.
It was a trip to Guanzhong's Weibei area in the late 1980s that changed the businessman's life.
He saw urban reconstruction turning beautiful old homes into rubble. And it upset him.
He also saw 2-meter-long stone posts crowned with sculptures sawn in two. The sculptures were sold to antiques dealers at very low prices, while the posts were thrown away.
"I didn't know what these posts were, but I knew they were irreplaceable historical relics," Wang recalls.
So he paid the locals twice the price offered by the dealers and bought all the remaining posts.
He later learned these were horse-hitching posts, some of which were fashioned as long ago as the Tang Dynasty (AD 618-907). Many of the sculptures carried images of ancient China's northern tribes, providing evidence of the integration of nations during the period.
"Horses were vital to war and transport - no wonder these posts were invented," Wang says.
"Guanzhong hosted several dynasties of biggest horse-breeding farms, which explains why horse-hitching stakes are rarely found elsewhere."
The posts became increasingly ornate from the Yuan Dynasty (1271-1368). They were symmetrically staked outside the front gates of houses and indicated a family's wealth and status.
Central Academy of Fine Arts professor Jin Zhilin points out: "They also repelled evil spirits. They are representative of Guanzhong folk culture."
The experience with the horse-hitching posts changed everything for Wang.
He scoured the entire Guanzhong area, snapping up more than 8,600 of the posts and numerous other items for daily use, such as furniture and kitchenware, to preserve local history.
Wang sold his companies one by one to cover the costs.
He then proceeded to purchase Ming- and Qing-era courtyard houses slated for demolition.
Wang began constructing the 11.2-hectare Guanzhong Folk Art Museum in rural Xi'an, Shaanxi's capital, in 2002.
The courtyard homes were photographed, disassembled and moved to the site. Every piece was numbered to make reconstruction precisely true to the originals. Even the old trees and earth surrounding the buildings were relocated.
The more than 300 construction workers Wang has hired are all seasoned temple builders and listed intangible cultural heritage inheritors, who specialize in traditional woodcarving, stone carving and brick carving.
Chinese Academy of Engineering academician Zhang Jinqiu says: "The relocation Wang has undertaken to prevent the demolition of these old houses is significantly valuable."
To date, 16 courtyards have been rebuilt. The museum, which has been open for nearly four years, is estimated to be worth 80 billion yuan ($12.72 billion).
"People who only care about money but not culture are the walking dead," Wang says.
But the former billionaire still must contrive ways to keep his museum financially viable.
It doesn't enjoy official government appropriations or commercial investment. Funding comes from ticket income and Wang's remaining cash.
"I care about paying my employees on time so they don't leave," he says.
Paying the 300 builders and other workers, such as security guards and tour guides, costs more than 30 million yuan a year.
Wang is considering providing traditional birthday and wedding ceremony services at the museum to increase income.
"My mom told me to be a good man and do the right thing," he says.
"This is the right thing to do."
Lu Hongyan contributed to this story.