Guitarist Yang Xuefei reinterprets Bach on a seven-string
Updated: 2012-02-16 10:56
By Chen Nan (China Daily)
| | | | | | | | | | | |
| --- | --- | --- | --- | --- | --- | --- | --- | --- | --- | --- |
|   | | Comments() | | Print | | Mail | | Large Medium  Small | 分享按钮 | 0 |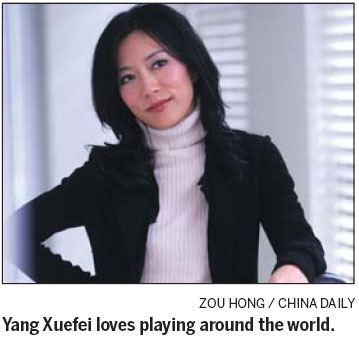 Bach never composed for guitar, but that has not stopped guitarists from drafting Bach into their repertory. Hence, Chinese classical guitar player Yang Xuefei's latest album, Bach Concertos.
The 35-year-old considers the album to be her most innovative and exciting to date. It took nearly two years to finish and features her own transcriptions of three Bach concertos, as well as some of his solo works.
"There is a Bach in every musician's heart," she says. "His music has been a blank canvas for guitarists, so I wanted to give it a try and I found there was considerable breadth for interpretation."
For the concertos, Yang is joined by the dynamic Elias Quartet. The three concertos are Bach's two violin concertos, plus the harpsichord concerto in D-minor, which is said to be based on a lost violin concerto.
The solo pieces are Bach's first Violin Sonata; Prelude from the Well-Tempered Clavier; and Air on The G String, which Xuefei recorded on a seven-string guitar.
Yang used three different instruments for the recording: her Australian Greg Smallman, a spruce instrument from German luthier Karl-Heinz Roemmich and a seven-string instrument by British luthier Paul Fischer.
"I spent lots of time revising and experimenting, which is every challenging," she says. "I wanted to keep the essence of the original works while making them sound like works for guitar."
Yang has taken risks since she was a child, taking up guitar when most of her peers learned piano or violin.
The Beijing native won her first guitar prize at age 7. She was the first Chinese to study classical guitar and the first guitarist from the mainland to study in the United Kingdom. Yang considers classical guitar a solitary instrument, partly because the greatest works written for it are solos.
"That fact forced me to create for guitar by cooperating with other musicians and writing on my own," Yang says. "But I don't want to focus too much on guitar, which would narrow my musical mind."
Since the guitar's sound easily gets lost among the louder orchestral instruments in the large halls where orchestras tend to play, concert guitar concertos remain comparatively rare.
Even so, Yang has toured the world since graduating from the Royal Academy of Music in London in 2002, while releasing five studio albums.
"Though the guitar is usually ignored on the concert stage because of its low volume, I try to made it heard," Yang says. "Both in my transcriptions and my live shows, I balance the different sounds and make the guitar as noticeable as possible."
For instance, during a performance in the summer of 2011, Yang danced as the quartet played and accidentally kicked the guitar stand next to her, making it fall. She giggled and continued to play.
"Performing onstage is always enjoyable for me because it's so unpredictable," Yang says. "I feel nervous before I step onto the stage. Sometimes, I ask myself why I chose to be a guitar player since I am so scared of playing in front of so many people. But once the music starts, I am immersed and thrilled. I want to play one piece after another."
She will give solo recitals at Middlebury College in Vermont on Feb 21 and at Carnegie Hall in New York on Feb 26. Then, she will tour the UK, Canada and the United States in the first half of 2012.