Pop goes the military
Updated: 2012-01-18 09:45
By Chen Nan (China Daily)
| | | | | | | | | | | |
| --- | --- | --- | --- | --- | --- | --- | --- | --- | --- | --- |
|   | | Comments() | | Print | | Mail | | Large Medium  Small | 分享按钮 | 0 |

Han Hong performs for air force soldiers stationed in the Tibet autonomous region at a charity performance. Guo Chaoying / For China Daily
A growing number of soldiers-cum-singers have been going from troops to troupes, with salutes from the charts. Chen Nan reports.
Mainland military singers have been marching toward the top in the pop charts, earning salutes from fans in a scene otherwise dominated by bubblegum bards from Taiwan and Hong Kong. Since the mid-2000s, most have gotten their breaks on TV talent shows, on which they perform folksy and patriotic anthems. Such is the story of Tibetan singer-songwriter Han Hong, who recently started her 2012 world tour Beautiful World with a performance at Beijing's MasterCard Center.
The 40-year-old, whose mother is a Tibetan singer, earned acclaim for her performances of such songs as Tibetan Plateau and Heaven's Road.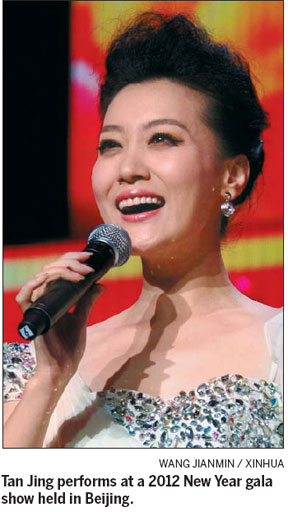 Han joined the army as a teenager and won a singing contest, which earned the attention of famous Chinese military singer Li Shuangjiang. Han joined the Cultural Troupe of the Air Force of the People's Liberation Army (PLA) and became a professional singer.
She received training toward her goal of becoming a singer-songwriter from the troupe.
"I've always been grateful to the army for giving me the chance to sing onstage," Han says.
"Although my days in the army were simple - even boring - I could concentrate on writing music. I had a lot of time to polish my singing and songwriting. I'm not good-looking or skinny, which were the main obstacles for me to release an album. But I'm confident about my voice."
It took Han years to release her debut album, 1997's The Shiny Snowy Land. Han believes her appearance is the reason it took so long.
But the album was wildly popular and helped her snap up numerous awards.
Han's first Beijing concert topped the country's performance box office in 2003, clinching the soldier's position among the ranks of China's singers who have become household names.
"The reason people like me, I guess, is my persistent personality and my singing," she says. "Although I never wear glamorous gowns or fashionable clothes, my voice touches people."
Han is also deputy head of the air force's cultural troupe, a National Committee of the Chinese People's Political Consultative Conference delegate and a permanent National Youth Federation member.
"My regular job at the troupe is to arrange performances and train new soldiers," she says. "I like my army uniform look."
In 2012, Han will release her new album, complete her world tour and do charity work, providing educational and medical facilities to underprivileged people in China's remote regions.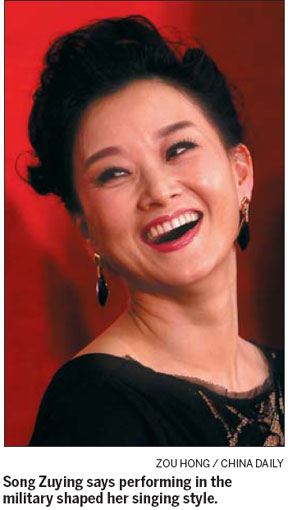 "While I have many things to do, my army job is still my focus," she says. "The main difference between military singer and other pop singers is that we have more social responsibilities and fewer commercial pressures. I believe audiences need musical variety, and that's why I'll stick to my style."
Han points out soldier singers are trying to expand their careers, as they're often viewed as overly political.
"Audiences see many soldier singers at serious and formal national events," she says. "But don't stereotype them. They're versatile and talented."
Military singer Song Zuying is a case in point of her ilk's musical diversity.
The soprano from Guzhang county in Hunan province's Xiangxi Tujia and Miao autonomous prefecture cooperates with musicians of myriad genres, including Taiwan pop king Jay Chou.
Song is also the first Chinese singer to have been nominated for the Best Classical Crossover Album at the 49th Grammy Awards.
She joined the Chinese People's Liberation Army Naval Song and Dance Troupe as a national first-class singer in 1991.
Song once told media she was shy when she joined the military but singing gave her confidence.
It was touring the country with the military that gave her the onstage experiences that shaped her singing style, she says.
Song performed for more than 20,000 fans at her concerts on Dec 31, 2011, and Jan 1, 2012, at Beijing's MasterCard Center.
"Folk songs can be presented fashionably, which is crucial to enabling the music genre's survival," she told an earlier Beijing news conference.
"There are no boundaries in my music. I want to make the concert an extravaganza or a drama that whisks audiences into a dream world."
This is an idea soldier singer Tan Jing has taken to heart.
The 35-year-old crooned traditional Chinese songs to rock music and jazz piano when she headlined a show in November 2011 with Swedish solo artist Robert Wells, and a lineup from China and the United Kingdom.
Tan, who majored in folk music at the Chinese Conservatory of Music in 1994 and joined the General Military Choir of China at age 21, rocketed to fame when she performed at the 2008 Beijing Games' opening ceremony.
"I wanted to become a soldier when I was little," Tan says.
"My grandpa always said his greatest regret was that he never joined the military. It's a lot of commitment and hard work, but I enjoy it very much."
Mai Sui, a soldier singer from the Beijing Military Region Political Department Ally Cultural Troupe, experimented with singing traditional Chinese folk songs to the accompaniment of acoustic guitar in her album, Double Faces.
The 30-year-old wore heavy makeup and fashionable clothes on the album cover rather than the traditional military uniform worn by her contemporaries.
Mai invited pop singer-songwriter Li Jian and R 'n' B singer Hu Yanbin to write songs for her.
"Times have changed, and military singers need to change, too," Mai says.
Soldier singer and military officer Liu Bing, whose song We Are Soldiers was popular in the 1990s because of its upbeat melody and uplifting spirit, believes there are more voices to be discovered from the military's ranks.
"Chinese listeners loved military singers decades ago, because their songs are mostly dedicated to the country and the people," Liu says.
"But as more genres were introduced into China, people gradually began to overlook military singers. Only a few are still remembered. The problem today is the lack of good songs and presentation. That's why soldier singers aren't noticed as much."
Li Shuangjiang, the tenor who discovers military singing talent, says joining national singing competitions is virtually the only avenue for soldier singers to win fame.
One of his students, PLA Song and Dance Troupe of the General Political Department soprano soloist Lei Jia, demonstrates this point.
That's how she rose to prominence with her song, Reed Catkins, which is hailed as representative of new Chinese folk songs.
"Every soldier singer has a different personality, which translates into different singing styles," Li Shuangjiang says.
"I always tell my students to remember their individual styles when singing. The country is more open than in my day, and vocalists should try different ways of presenting their music."