Party options
Updated: 2011-11-28 14:51
By Pauline D. Loh (China Daily)
| | | | | | | | | | | |
| --- | --- | --- | --- | --- | --- | --- | --- | --- | --- | --- |
|   | | Comments() | | Print | | Mail | | Large Medium  Small | 分享按钮 | 0 |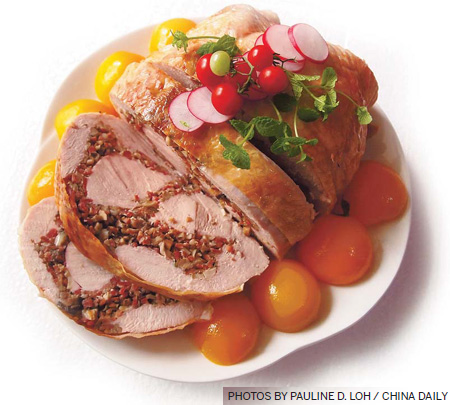 Eat more vegetables. But when the party is all about the turkey, how do you cater for the vegetarians and still keep the meat lovers happy? Pauline D. Loh has suggestions.
We had Thanksgiving at the office this week. It was not so much to celebrate a very American holiday, but more to show appreciation to a bunch of people that we see more often than our parents, or sometimes our spouse. Journalists keep notorious hours, and the regular crisis management each week has helped us bond into a tightly knit team. It was good to relax with some nice food and a couple of drinks in the middle of the day, and take time to be pleasant.
The food had to be portable and easy to assemble. We also had a couple of vegetarians among us, and we needed to make sure they had something to eat as well.
I'm sure you have the same problem when your guest list includes friends who do not eat meat.
Vegetarian food does not have to be boring, and a little effort and creativity can turn all the seasonal goodies into a delicious dish for non-meat lovers.
I decided to do a vegetable strudel with roasted pumpkin, chestnuts and caramelized onions, and I must say it was so good that the meat-eaters were competing with the vegetarians for a slice.
The turkey had to be easy to carve and portable, so I did a stuffed turkey breast. No bones, no fussing with carving knives and everything gets eaten but the plate.
It was an organic turkey that had enjoyed a happy life roaming around the farm in a Beijing suburb, and even then, it was a hefty 8.5 kg. The breast itself came up to a little more than 2 kg and took about one and a half hours in the oven.
Most homes in Beijing do not have ovens that can take a whole turkey, and I am still looking for an oven that will take the bird. That's the reason why the turkey was trimmed into various portions for various meals.
The wings ended up in a traditional Chinese braised dish with chestnuts and onions, and my husband and I ate that for dinner. Just the two wings yielded a generous portion enough for two, with leftovers.
The breast was boned and then splayed open with a couple of strategic slits where the meat is thickest. That way, you get to spread the filling around for maximum flavor, and the breast also cooks faster.
I chopped off the legs and am saving them for use in a turkey paella with carrots, peas and some of the saffron strands that a friend sent from Spain.
For the greens, I decided to serve a rocket salad with shaved cherry radishes, steamed gingko nuts and fresh lily bulbs, and for that festive touch - shaved pecorino and Yunnan ham. Again, the salad disappeared before the meat.
Maybe I should be thinking of a full vegetarian party option the next time.
Recipe: Stuffed Turkey Breast
Ingredients:
1 boned turkey breast (about 1.8 to 2 kg)
100 g button mushrooms
100 g brown or chestnut mushrooms
100 g porcini or cepe mushrooms
4 slices streaky bacon, chopped
2 cloves garlic, minced
2 to 3 sprigs of thyme, stalks removed
Salt and pepper to taste
Method:
1. Slice and chop the mushrooms.
2. Heat up a non-stick frying pan and add the chopped bacon. When the fat has rendered, add the minced garlic and fry till fragrant.
3. Add the chopped mushrooms and fry until they are fully softened. Season well with salt and pepper and allow to cool.
4. Spread out the turkey breast and slit the thickest part of the breast to even out the thickness. Scatter a sprinkle of salt on the breast.
5. Spread the mushroom mixture on the breast, tucking it into the crevices of the slits. Sprinkle the thyme evenly over the mixture.
6. Roll up the breast, tucking in loose flaps of flesh and skin with the help of skewers. Or you can tie it up.
7. Place the stuffed breast, skin-side up on a roasting rack in a baking tray.
8. Cook in a pre-heated 200 C oven for 45 minutes. Turn up the heat to 220 C in the last half hour to brown and crisp the skin. But please watch the turkey so it does not get scorched. If the skin gets too brown, cover with a piece of aluminum foil.
9. Let the turkey breast rest for at least 15 minutes. If you try to carve too soon, the meat will likely disintegrate.
Food notes:
Fresh cranberries are not easily available in China, so I used two punnets of blueberries and the thinly sliced peel of one orange for the sauce. I added a cup of orange juice and cooked it all down to a jam. Blueberry jells naturally so it will thicken as it cools. I added only honey to sweeten but you can add sugar to taste.
Recipe: Roasted Pumpkin Strudel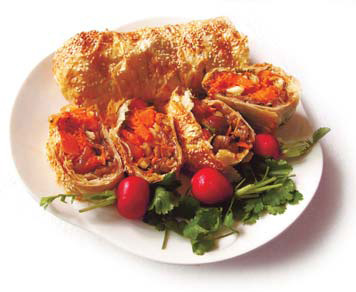 Ingredients:
Six sheets of filo pastry
1 kg pumpkin, skinned and cut into large chunks
2-3 sprigs of thyme
1 tsp sea salt flakes
1 carrot, grated
4-6 water chestnuts
1 large onion, sliced thinly
10 to 12 cooked chestnuts
Salt and pepper to taste
Olive oil
Method:
1. Place the pumpkin chunks into a large baking tray and drizzle with olive oil. Sprinkle salt over and give the tray a good shake to coat the pumpkin chunks. Roast in a hot oven for 20 minutes until the pumpkin is cooked.
2. Grate the carrots. Smash the water chestnuts with the side of a large knife.
3. Add olive oil to frying pan and fry the onions until well caramelized. Season with salt and pepper.
4. Spread the layers of filo pastry on a large chopping board and brush each layer with oil.
5. Place the caramelized onions along the edge of the filo pastry. Place a row of chestnuts on top of the onions.
6. Mix the smashed water chestnuts, grated carrots and roasted pumpkin chunks together and place on top of the onions.
7. Carefully roll up the filo pastry to make a roll, and tuck in the ends. Brush the top with a beaten egg and sprinkle some sesame seeds over if you like.
8. Place the roll on a buttered tray and bake for 20 minutes in a preheated 200 C oven until nice and golden. Cool, slice and serve.
Food notes:
Filo pastry is available at most large Western supermarkets in China's major cities. But if you cannot find any, use puff pastry instead. Cut the puff pastry into a rectangle about 30 cm by 40 cm, add the filling and fold over. Wet the edges and then seal by pressing down hard with the tines of a fork. Brush with egg and cook in a hot 200 C oven for about 20 minutes or until the pastry has risen and is golden.
Recipe: Yunnan Ham Salad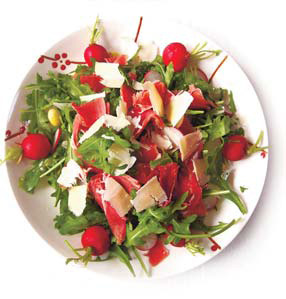 Ingredients:
100 g Yunnan ham, thinly shaved
100 g pecorino cheese, thinly shaved
250 g rocket leaves, washed and drained
100 g gingko nuts
1 fresh lily bulb
3 to 4 cherry radishes
2 tbsp lemon juice
1 tbsp honey
4 tbsp extra virgin olive oil
1 tsp sesame oil
Method:
1. Place the gingko nuts in a pot of slightly salted water and bring to a boil. Cook for 10 minutes. The skins should slip right off as the gingko cooks. Reserve.
2. Trim the lily bulbs, keeping only the white "petals", discarding any discolored ones.
3. Wash and dry the cherry radishes and slice as thinly as possible.
4. Spread the rocket leaves out on a salad platter and distribute the gingko nuts, lily bulbs and cherry radishes evenly.
5. Shake together the lemon juice, olive oil and honey and drizzle the dressing over the greens. Top with the shaved Yunnan ham and pecorino.
Food notes:
As long as you keep the base of the rocket leaves, you can add any other ingredients you fancy to this salad. You can add carrot or cucumber ribbons for example, or a selection of mixed salad leaves. The Yunnan ham is the quality Xuanwei ham and is simply salt cured. Shaved very thinly, it has a slightly smoky taste that is delicious with the bitter tang of rocket. I used pecorino, a hard goat's milk cheese, but you can add any cheese you like, or skip the cheese altogether.