Flying solo
Updated: 2011-09-02 10:53
By Guo Shuhan (China Daily)
| | | | | | | | | | | |
| --- | --- | --- | --- | --- | --- | --- | --- | --- | --- | --- |
|   | | Comments() | | Print | | Mail | | Large Medium  Small | 分享按钮 | 0 |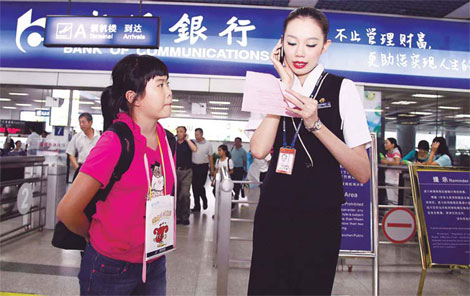 Unaccompanied children He Yinnan (right) and Gong Hao board a China Southern Airlines flight from Shenzhen to Beijing. Photos by Zhu Xingxin / China Daily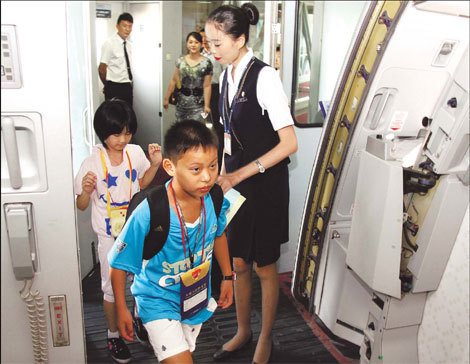 An airline escort calls Guo Yongyi's mother after her arrival in Shenzhen by air.
Related video: More children "mailed by air"
An increasing number of children are taking to the skies and traveling around China on their own. Guo Shuhan reports.
Eleven-year-old Guo Yongyi quickly finds her place in row 38 on the three-hour morning flight from Beijing to Shenzhen, Guangdong province. She takes the window seat and calls for the flight attendant to ask for a blanket, places her purple backpack under the seat in front of her and fastens her seat belt. Guo has just spent her summer vacation with a cousin in Beijing and is returning home for the new school semester. She is among a growing number of children, aged between 5 and 12, traveling on their own by air during their school holidays. Like Guo, many children make visits to see family members, while others fly to attend vacation camps, according to China Southern Airlines (CZ).
The airline says it assisted 991 unaccompanied minors in the first 17 days of August to and from Guangzhou. A record 300 children were assisted on just one day in July.
Guo first traveled all by herself when she was 7. At that time she had no idea about security checks or what a boarding gate was. The Taiwan province youngster is now an experienced flyer and often finds herself helping other kids, who are too shy to ask for a drink or a blanket.
"When she first flew four years ago, I wasn't worried about the quality of service, as I usually travel with CZ," Guo's mother, Liu Yuye, says. "I used to worry she would get scared traveling without us. So, I would call her when the plane landed and she always sounded happy and proud."
Zhou Taohua, an airline escort, says parents value the unaccompanied child service as it saves on traveling time and money.
"If I take my daughter to visit her father in Yichun (Heilongjiang province) by train (from Beijing) it takes 16 hours," says Liu Jingli, mother of 10-year-old Pang Zipei.
"A round-trip air ticket for an adult costs nearly 3,000 yuan ($469) while it is just 1,500 yuan for a minor. Although she has to transfer in Harbin (capital of Heilongjiang province), I am confident airline staff will help her," Liu says.
When Guo's flight returns from Shenzhen, it has two other unaccompanied children on board, 9-year-old He Yinnan and 10-year-old Gong Hao.
Unlike the lively Gong, He, a pretty little girl with large clear eyes and shoulder-length hair, is more reserved.
Ma Ning, a veteran chief flight attendant, knows that quiet children like He need more attention, as they are often too shy to speak out, even if they feel sick.
Ma keeps a close eye on He. When she realizes she has no appetite for lunch and has wrapped herself in a blanket, Ma kneels down by her side and asks softly if she is feeling well.
After finding out she is feeling sick and has a stomachache, Ma gives her a cup of warm water and suggests she takes a walk.
"We (flight attendants) play a variety of roles, as every passenger is different," Ma says.
"We don't want people to see us only as waitresses who serve water and meals. We also try our utmost to become approachable 'aunts' for children, considerate helpers for seniors and competent guides for first-time air travelers."