Beijing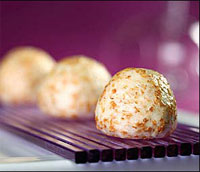 Classic Cantonese
Zen5es at The Westin Beijing Chaoyang uses fresh and quality ingredients to prepare an authentic selection of Cantonese dishes. Guest Chef Peter Cheung from Le Royal Meridien Shanghai will work with the hotel chef team to add more than 20 new dishes to the menu, including deep-fried crispy milk with shrimp paste, steamed bean curd with scallops, prawn balls and black pepper on hot plate, from Nov 4 to 21.
010-5922-8880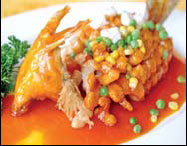 Suzhou sensations
Chef Peter Xu from Kempinski Suzhou will present a festival of Suzhou fare at Dragon Palace restaurant, Kempinski Hotel Beijing from Nov 4 to 12. Suzhou hosts one of China's most delectable cuisines, with an emphasis on top-quality ingredients, light, sweet flavors and artful preparation. Examples include steamed Mandarin fish, crystal-clear aromatic soups and cherry pork.
010-6465-3388 Ext 4218
Kids cooking class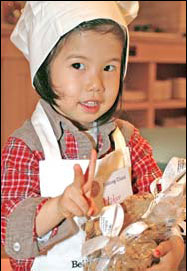 Sign up for the Kids Cooking Class at the Hilton Beijing Wangfujing. They will have fun baking and cooking with skilled chefs while turning the kitchen upside down. It's held every Saturday from 3-5 pm with a theme changing every week from pizza to fish rissole to chocolates to apple pie. There will be tables for parents to sit and relax while sipping a cup of coffee or tea.
Contact Jason Chen at 138-1072-0018.
Wine and dine
2010 Hilton Beijing's International Food and Wine Experience is coming on Nov 6. Visitors will partake to try international dishes and vinos. This year's gathering will bring more than 2,000 labels together. Besides the wines, there are distributors of beers, coffees, gourmet chocolates, cheese and a vast array of other delicacies.
010-5865-5125
Hairy crab feast
Summer Palace at China World Hotel provides Beijing's favorite autumn feast - delectable, fresh hairy crabs from Oct 15 to 30. Signature dishes are steamed crab roe and egg white in crab shell, Yangzhou lion's head minced pork marinated with codfish, crab roe and crab meat, and sauteed crab roe and meat with eight treasures.
010-6505-2266 Ext 34
Shanghai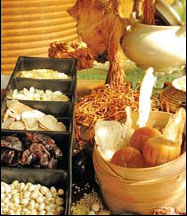 From the herb garden
The Crystal Garden at the Westin Bund Center, Shanghai is offering 10 delicacies made with traditional Chinese herbs until Oct 17, including double-boiled Qingyuan chicken with dried scallops and winter melon, and sauted green lobster with spinach and saffron sauce.
021-6335-1787
Mexican meals
Let the live music trio soothe your nerves while enjoying the all-you-can-eat Mexican style buffet at Mi Tierra for 145 yuan per person, including a regular coffee or soft drink. Add 45 yuan and you can have unlimited Mexican fresh water, American coffee and soft drinks. Another 75 yuan provides you with free flow of cocktails. Kids under 12 can enjoy the buffet and free drinks for 75 yuan.
021-5465-5837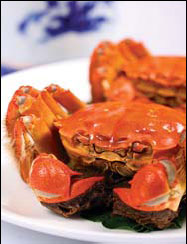 Shell of a time
Autumn is the best time to savor seasonal hairy crab. The freshest and finest hairy crabs from Yangcheng Lake will be available at the Grand Hyatt Shanghai. Canton and Club Jin Mao will offer a special hairy crab set menu, including steamed hairy crab, braised pea shoots with crab roe and pigeon egg, pan-fried cod with crab roe and vegetables, and many other delicacies.
021-5047-1234 Ext 8778/8779
Premium package
The newly opened Ritz-Carlton Shanghai, Pudong has launched an intriguing Romancing at The Ritz package priced at 6,999 yuan with many exclusive perks. Honor your love by pampering your significant other with a 30-hour romantic treat at the hotel. This package rate, inclusive of a 15-percent service charge, is valid until Dec 31.
021-2020-1111
Huaiyang happiness
Jade Mansion, a luxurious restaurant featuring Huaiyang cuisine, held its grand opening at the end of September at the Shanghai International Finance Center.
The traditional cuisine, which retains the original flavors of the ingredients and offers a subtle taste and skillful presentation, is often the choice of State banquet.
021-5012-7728