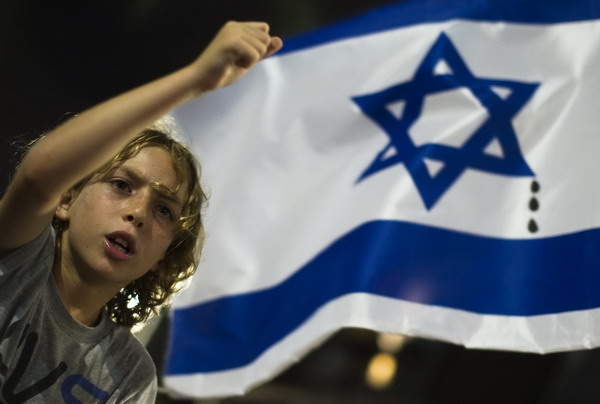 An Israeli boy takes part in a march on a main road in Tel Aviv during a rally against rising property prices in Israel July 30, 2011. Tens of thousands of Israelis took to the streets on Saturday to protest against the high cost of living and demand Prime Minister Benjamin Netanyahu undertake sweeping economic reforms. [Photo/Agencies]
JERUSALEM - Israel's government hit back on Sunday at protests against the rising cost of living, saying some reforms being demanded might lead to economic crises like those besetting parts of Europe and the United States.
The warnings followed marches by some 100,000 demonstrators, the resignation of a top treasury official and questions from leading commentators over Prime Minister Benjamin Netanyahu's ability to ride out a revolt by the middle class.
"We see the talk about the debt crisis in Europe. We are even hearing talk of a possible default in the United States," Finance Minister Yuval Steinitz said. "My supreme duty is to ensure we do not reach this situation in the State of Israel."
He rejected calls for the authorities to curb industry leaders who are often accused of artificially inflating the price of consumer goods through cartels tolerated by Netanyahu and his predecessors.
"We will not part with our principles. We will not create anarchy here," Steinitz told reporters. "We will attend to (market) concentration but we will not turn the rich and the business people and the investors and the industralists into the enemies of the people, because they are part of a healthy economy."   
Steinitz, a stalwart of Netanyahu's right-wing Likud party, has been the focus of criticism in the crisis that erupted this month, and was dealt another blow on Sunday when his ministry's director-general, Haim Shani, resigned.
Shani, a former CEO of Nice Systems , one of Israel's most successful high-tech companies, complained in a statement of "long-running disagreements over significant issues and the overall management manner" in the Finance Ministry.
"The events of recent days magnify the problems," Shani said, referring to the spread of protests that began last month with a Facebook-mobilised price boycott of cottage cheese, after which students pitched tents in Tel Aviv to air grievances over rents.
They have been joined by activists of various demographic and political stripes, broadly representing the middle class, which is burdened by high taxes and serves as the backbone of the conscript military and its reservist forces.
Social mindset
The crisis has eclipsed the face-off with the Palestinians and other adversaries.
"We have to understand that we are moving away from a security mindset to a social mindset," Vice-Premier Silvan Shalom said on the top-rated Channel Two television news.
Though Netanyahu's broad-based, conservative governing coalition should keep him in office until the next election in 2013, polls show his personal approval rating plummeting.
"The mass demonstrations that swept Israel last night, Mr Prime Minister, will sweep you away as well," wrote columnist Dan Shilon in the mass-circulation newspaper Maariv.
"Nothing will extricate you now: not a panicked tax cut, not the Knesset's (parliament's) summer recess, not the autumn rains, not Katyusha rockets in the north, not Qassam rockets in the south, not an attack in Iran nor missiles on Tel Aviv."
Media attention has focused on the massive concentration of corporate power in a small number of Israeli business groups.
Shani's resignation could undermine government efforts to tackle this thorny issue, as he had a leading role on a committee set up to explore the level of competition in the economy and present findings in a few weeks.
Addressing his cabinet, Netanyahu voiced sympathy for the protesters but credited government policy with keeping Israel's economic problems in relative check, with GDP growth projected at 5 percent this year and unemployment at a low 5.7 percent.
"This allows us to make the necessary repairs," said Netanyahu, who last week announced emergency housing reforms.
"It is incumbent upon us to avoid irresponsible, hasty and populist steps that would be liable to drag the country down to the situation of certain countries in Europe, which reached the point of bankrupcy and mass unemployment," he said.