WASHINGTON - US officials had met with representatives of Libyan leader Muammar Gaddafi last weekend, in a bid to press him to step down, media reports said here on Monday.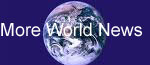 The meeting took place Saturday in an undisclosed third country and involved three senior US diplomats, including US Assistant Secretary of State for Near Eastern Affairs Jeffrey Feltman, along with four senior members from Gaddafi's government, reported CNN, quoting anonymous US officials.
A spokesman of the Libyan government said the meeting was held in Tunisia, said the reports.
The US purpose for the meeting was to deliver a "clear and firm message" that Gaddafi must step down.
The unnamed US officials said the meeting was not for negotiation and there were no plans to meet with Gaddafi representatives again, said the reports.
The United States recognized Libya's opposition National Transitional Council (NTC) Friday as the sole and legitimate interlocutor of the Libyan people.