Decision to withdraw forces from Afghanistan 'signals beginning of end'
NEW YORK / BEIJING - US President Barack Obama has faced mixed reaction to his decision to gradually withdraw troops from Afghanistan.
He has been criticized for sacrificing Afghanistan for domestic political concerns, but some commentators say he is acknowledging reality on the ground.
Obama said in a televised address on Wednesday night that he would pull 10,000 troops from Afghanistan by the end of this year, followed by about 23,000 more by the end of next summer and continue with a steady withdrawal of the remaining troops after that.
The withdrawal, Obama said, signals the beginning of the end of the war that began shortly after Sept 11, 2001. The US and its allies have agreed to turn over security responsibility to the Afghans in 2014.
Both Germany and France said on Thursday that they would follow the US plan and cut their troop presence there.
Mitt Romney, Republican presidential hopeful, accused Obama of proposing an "arbitrary timetable" and said the decision on withdrawing troops "should not be based on politics or economics".
Foreign Ministry spokesman Hong Lei said on Thursday that China hoped that the US would act responsibly during the withdrawal and help Afghanistan enhance its security capability.
"It has been China's consistent stance that the independence and sovereignty of Afghanistan should be respected. We have noted President Obama's withdrawal plan and hope the US safeguards a peaceful and stable transition," Hong told a regular news briefing.
Li Qinggong, deputy secretary-general of the China Council for National Security Policy Studies, believes Obama's decision is aimed at appeasing anti-war sentiment at the core of his base and to increase his chances in next year's presidential election.
"The political significance has outweighed the military significance," Li said.
US commentators suggested that Obama's decision was aimed at appeasing the US public, increasingly weary of the 10-year war and a struggling economy, haunted by high unemployment and a national debt exceeding $14 trillion.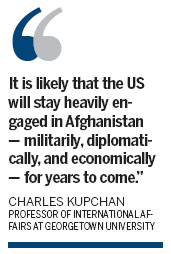 Charles Kupchan, professor of international affairs at Georgetown University in Washington, said the planned withdrawal is a move in the right direction following Obama's troop surge in 2010.
"The surge has accomplished limited goals in the areas where counterinsurgency operations have been focused. But it is clear that the US and NATO will not be able to pacify Afghanistan and turn control over to a functioning central government and a capable Afghan security force," Kupchan, a former senior official at the National Security Council, said.
"Moreover, support for the war is waning among the US public. It is time for the Obama administration to begin withdrawing troops."
The war in Afghanistan is costing US taxpayers some $10 billion a month. Besides 100,000 US troops, more than 40,000 NATO soldiers are also stationed in Afghanistan.
Ahmad Majidyar, a senior research associate at the American Enterprise Institute, a Washington DC think tank, praised the success of the troop surge and cautioned against a premature withdrawal of troops.
"The surge of 30,000 troops has had notable successes over the past 18 months. The coalition forces have arrested the momentum of the Taliban and expelled them from their strongholds in southern Afghanistan. The insurgents have, so far, failed to regain lost territory. But these security gains, as Gen. David Petraeus has acknowledged, are 'fragile and reversible'," he said.
Majidyar warned that a premature withdrawal of US and NATO forces would not only undo these security gains but could also result in a civil war and the return of the Taliban and al-Qaida to Afghanistan's south and east.
Kupchan does not think that the troop reduction means that the US is abandoning Afghanistan.
"Indeed, the envisaged withdrawal is occurring more slowly than many Americans, including influential voices on Capitol Hill, would like. It is likely that the US will stay heavily engaged in Afghanistan - militarily, diplomatically, and economically - for years to come," he said.
Kupchan said no one will "win" in Afghanistan.
"But the US will have achieved a success of sorts if the country emerges from this decade of war with a semblance of political stability," he said.
"Under the best of circumstances, political control will be decentralized, the Taliban will hold a measure of political sway and Afghanistan's regional neighbors will play important roles in advancing its security and prosperity. Al-Qaida activity in Afghanistan has been reduced to a minimum, and it would be extremely difficult for al-Qaida to return to Afghanistan even after a substantial withdrawal of US troops," Kupchan said
Daniel Goure, vice-president of the Lexington Institute, a think tank based in Arlington, Virginia, agrees that Obama's decision may have something to do with the 2012 presidential election.
"The beginning of a withdrawal is in keeping with the president's commitment made in 2009. However, it does place the progress made to date at risk," Goure said.
Li Qinggong also cautioned that the departure of US forces will change the nature of the war in Afghanistan. "The current military conflict will likely become civil war."
But he believes that the withdrawal of US troops might offer a chance for the start of a peace process in the country.
"The Afghanistan people know how to deal with their own problems, and a peaceful solution in the end is highly possible," he said.
Ye Hailin, a researcher with the Chinese Academy of Social Sciences, said the future of US-Afghan ties is still hard to predict as there are so many unknown factors in the withdrawal plan.
"How many soldiers are they going to withdraw, and can the plan be implemented as scheduled, are questions that really matter," Ye said.
A Pew Research Center poll released on Tuesday shows that the percentage of US citizens who favor removing the troops as soon as possible has reached an all-time high.
For the first time, a majority (56 percent) say that US troops should be brought home as soon as possible, while 39 percent favor keeping troops in Afghanistan until the situation has stabilized.
Obama, in his address, acknowledged the high cost of wars by mentioning the 4,500 US soldiers killed in Iraq and the nearly 1,500 killed in Afghanistan. The two wars have cost the US $1 trillion over the past decade.
He also admitted huge challenges remain in Afghanistan, but "the goal that we seek is achievable, and can be expressed simply: no safe haven from which al-Qaida or its affiliates can launch attacks against our homeland, or our allies".
Anatol Lieven, a professor of terrorism at King's College London, said: "I don't think Obama wants to have a major withdrawal before the next US presidential election, because that would offend the army too much.
"But by 2014 he will have to withdraw a considerable number of troops because he's made this commitment. If, by then, there is no major progress, the American people will be completely exasperated. And by then he would have no European allies left in terms of troops on the ground."
Tan Yingzi in Washington, Zhang Yuwei in New York and Zhang Haizhou in London contributed to this story.