CAIRO - In his televised speech on early Saturday, Egyptian President Hosni Mubarak said that he has asked his current government to resign, vowing that the new government will bring more democracy and reform, in response to the massive protests during the last four days all over the country.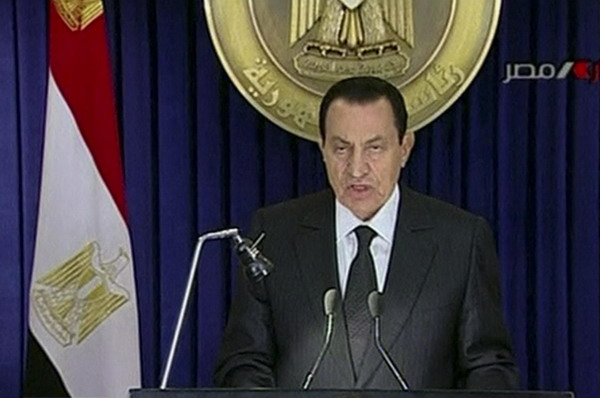 In this still image taken from video, Egypt's President Hosni Mubarak addresses the nation on Egyptian state TV in Cairo January 28, 2011. Mubarak called for dialogue and said he would name a new government on January 29, 2011. [Photo/Xinhua] 
He said that Egypt is a country governed by constitution and law, stressing that people should protect the public properties instead of burning what Egypt has built over the years.
Massive anti-government protests took place around Egypt on Friday, leading to deaths and injuries. These protests have been inspired by the Tunisian "Jasmine Revolution."
Mubarak added that instead of violence, people should achieve all their inspirations through awareness, dialogue and efforts. "I am always attached to the suffering of the Egyptian people," he said.
"Our program targets unemployment, healthcare improvement and education services," said Mubarak.
The president who has ruled the country for 30 years said that he will continue the country's political, economic and other reforms with "no point of return."
"I have been concerned about the poor and I am still concerned and that is what I have always worked on," said Mubarak.
In his speech, the president urged the youths to take care of the national interests, be restraint and not to abuse the freedom of expressions.
"These demonstrations would not have taken place without the freedom of expression that was given to the Egyptians," said Mubarak.
"I talk to you as an Egyptian citizen who spent his life guarding this country during both peace and war ... I bear all the responsibilities to preserve the citizens' security," he added.