BEIJING - While US leaders are still counting down for Chinese President Hu Jintao's visit, some American people in New York have already been drawn closer to China through a video show in Times Square.
The 60-second video, with red as its theme color, will be shown 15 times each hour till Feb 14 and is expected to be aired on CNN from Jan 17 to Feb 13. On top of the six screens in Times Square there is a billboard saying "Experience China."
Dozens of Chinese people appear in the video, including celebrities like basketball star Yao Ming, astronaut Yang Liwei and producer John Woo.
The video also featured some ordinary persons like Alipa Alimahun from the Xinjiang Uygur autonomous region, who was shown standing in a scarf and yellow robe. For over half a century, the 71-year-old woman adopted nearly 20 orphans from 10 ethnic groups.
"We hope that video could give the American people a panorama about China and let them feel the readiness of the Chinese people for making friends with them," said Jason Shen, chief executive producer of the video.
Shen said it took him and his staff nearly two months to finish the video clip. Also, several foreigners were invited to give advice.
Many countries and regions have videos to convey their images to overseas audiences, some with the purpose of promoting tourism. "Even Kosovo launched its video to show how beautiful the war-plagued land really was," Shen said.
Jin Jing, a wheelchair fencer and Olympic torchbearer, took part in the filming last August. Although the video was short and her image just appeared for a couple of seconds, the woman was proud.
"I appear in the video as a member of the handicapped, a member of the young generation born after the 1980s," she said.
In the past, Jin said that maybe China was just a vague word easily associated with agriculture and workers.
"Through this video we want to tell the world that we have talent in all fields, like high-tech industries."
"The airing of the video coincides with Hu Jintao's visit to the United States. Selection of this opportunity showed China's growing awareness as to how to promote itself," said Chen Gang, deputy dean of the School of Journalism and Communication of Beijing University.
Now China is trying to "talk with the outside world in their context," he said.
With the development of China, more and more Chinese faces, like Super Girl champion Li Yuchun and some migrant workers, appeared on Time magazine. Yet some experts believe western countries lack an understanding of China.
"Some western countries still bear misunderstanding about China," said Jin Dinghai, vice chairman of the China Advertising Association of Commerce.
The video, Jin noted, could help reduce prejudices.
Sun Yingchun, a professor with the School of Foreign Studies of the Communication University of China, believe it is progress to have the country represented by individuals.
"In the past, the only image of individuals in the eyes of Americans might have been Chairman Mao," he said.
But this time, the image tends to be diversified. "What we tried to show is a real China, rather than an image catering to their tastes."
However, the professor said that the video alone was not enough to show China's image, as the "image of a country should be exhibited in all aspects like politics, economics, society and culture".
His view was shared by Wang Yizhou, deputy director of the Institute of World Economics and Politics of the Chinese Academy of Social Sciences.
"Our public image was also shown in the fulfillment of our responsibility, like dispatching peacekeeping forces and aiding disaster-ravaged counties," he said.
David Tool, a professor with the Beijing International Studies University, had not seen the video, but he believed the idea of showing it in the United States was "wonderful."
"The Americans need a better understanding of the Chinese, and they (Yao Ming and Yang Liwei) are popular, great figures," he said.
The project, he noted, showed that "Chinese government is paying attention to publicizing Chinese culture to foreign people."
He said that it was good for the video to involve ordinary people, and the Americans actually expect to see more common people, "even the poor, who are struggling for life and working hard, to show their good personality and real life".
He also advised that movies be used to promote Chinese culture.
"In America, some TV shows, like Desperate Housewives and Prison Break, are popular," he said, "It is better for China to make some movie ads or TV ads for exporting."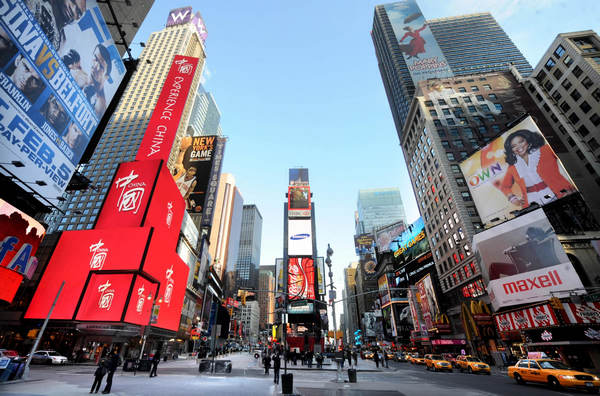 Footages of a short film promoting China (L) are shown on the screens at the Times Square in New York, USA, Jan 17, 2011. The video will be on until Feb 14, 2011. [Photo/Xinhua]