NANJING / BEIJING - The overall China-Japan friendship should not be undermined by the very few people who tried to jeopardize it, said Japanese Ambassador Uichiro Niwa as he kicked off his second day visit in Nanjing as Japan's top diplomat in China.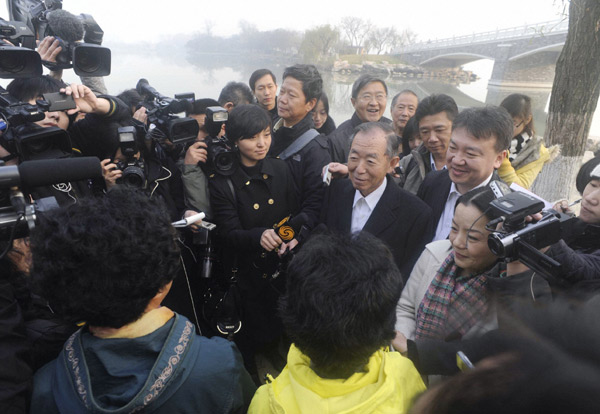 Japanese Ambassador to China Uichiro Niwa is surrounded by media as he speaks to local residents at a park in Nanjing Dec 21, 2010. [Photo/Agencies]
In a bid to give bilateral relations a boost, Niwa also vowed to embark on a nationwide visit to most of Chinese provinces and cities next year.
This visit to Nanjing, the first of its kind for the 71-year-old civilian-turned-ambassador, is widely interpreted as trying to mend fragile Sino-Japanese relations, as the city has just marked the 73rd anniversary of the mass slaughter by Japanese invaders.
Through interactions with local residents who were doing morning exercises in Xuanwu Lake Park near downtown Nanjing, Niwa thanked their Chinese people for the amity toward Japanese nationals who are working and living in the city.
"Japanese and Chinese people are more alike than they are different, " Niwa said as he distributed souvenirs among the group.
Given the refreshing international landscape that has undergone dramatic changes, Niwa was confident about the genuine bond that has been established between people from both sides.
By tapping into the future generation, Niwa also placed high hopes on open-minded young students to project a positive role in promoting benign Japan-China ties.
"It is inevitable that neighboring countries like us (China and Japan) slumped into occasional quarrels, but the next generation should seek to take up the responsibility for a lasting friendship," Niwa said as he addressed the Nanjing Foreign Language School, after chatting with some Chinese students in Japanese.
Having served as an economic consultant for Jiangsu for five years, the ambassador noted Japan values its relationship with the province, which is home to the second largest group of Japanese businessmen in China after Shanghai.
Foreign Ministry spokeswoman Jiang Yu said on Tuesday that China welcomes the visit as an effort to enhance communication between Japanese and the Chinese at a regional and local level.
Sino-Japan relations have been rocky since Japanese authorities illegally detained the captain of a Chinese trawler in waters off China's Diaoyu Islands in September.
Situations got even more complicated after a defense guideline was approved by Japan on Dec 17 that reoriented its national security toward China.
This was followed by a resolution by the council of Sakishima City in Okinawa to designate Jan 14 as "Senkaku Islands Day", as a move to underline Japan's territorial claims.
Liu Jiangyong, an expert on Japan studies at Tsinghua University, said Niwa's visit is best positioned to strengthen ties with relevant governmental organs in China, which facilitates boosting bilateral trade.
But Niwa's endeavor in resetting soured bilateral political relations will be limited, given the clashes over a range of issues from territorial disputes to security concerns, Liu noted.