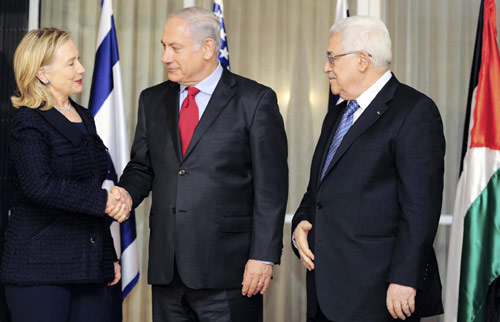 Palestinian President Mahmoud Abbas (R) watches as Israel's Prime Minister Benjamin Netanyahu (C) shakes hands with US Secretary of State Hillary Clinton (L) before their meeting in Jerusalem September 15, 2010. [Photo/Agencies]
US engages shuttle diplomacy as Israeli PM meets Palestinian leader
JERUSALEM - Israeli Prime Minister Benjamin Netanyahu and Palestinian President Mahmoud Abbas held a second day of talks on Wednesday to try to overcome a row over Jewish settlement building that could sink their push for peace.
Netanyahu will first meet separately with US Secretary of State Hillary Clinton and Abbas will join them later in the afternoon for three-way talks that will also be attended by Washington's Middle East envoy George Mitchell.
The two leaders failed in talks on Tuesday in Egypt to find a compromise over the settlements, but Mitchell said the pair discussed several core issues that split the two sides and said that they were convinced they could reach a deal within a year.
A 10-month Israeli moratorium on new housing construction in West Bank settlements expires on Sept 30 and Palestinians have said they would quit the US-brokered talks if building resumes.
Mitchell said after meetings in the Egyptian Red Sea resort of Sharm el-Sheikh that he believed they were "moving in the right direction overall".
The status of Jerusalem, the fate of Palestinian refugees, the borders of a future Palestinian state and security arrangements are the main issues that the two leaders would have to resolve to secure a permanent peace deal.
This latest round of direct talks was relaunched at the start of September after a 20-month hiatus.
Israeli media reported that Netanyahu may fly to Washington early next week, with speculation that US President Barack Obama may get involved to try to resolve the settlement impasse.
Netanyahu, whose coalition government is dominated by pro-settler parties, has said previously that he would not extend the freeze but could limit the scope of building in some settlements.
Palestinians say the settlements, built on land they want for a state, would deny them a viable and contiguous country.
Reuters