UNITED NATIONS -- Iran on Thursday confirmed that it will be releasing Sarah Shourd, one of the three American hikers held in Tehran for over a year by the Islamic Republic.
In an email sent to Xinhua by spokesman Bak Sahraei of the Iranian Mission to the UN, the US national is said to be released "very soon."
Shourd and two other Americans, Josh Fattal and Shane Bauer, were arrested in Iran on July 31 last year after they entered the country illegally from its western border.
Last November, the Islamic Republic accused the hikers of espionage -- a charge the US government considered to be unfounded.
In May, the mothers of all three Americans were allowed by the Islamic Republic to meet their children in Tehran.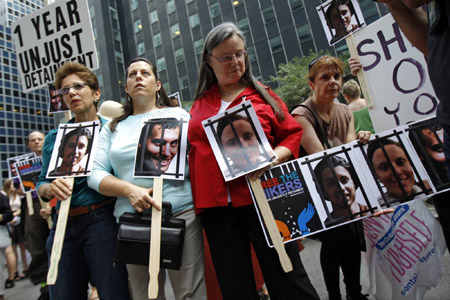 In this July 30, 2010 file photo, Laura Fattal (L), Cindy Hickey (C) and Nora Shourd (R), the mothers of Josh Fattal, Shane Bauer, and Sarah Shourd respectively, hold pictures of their children while protesting for their release with others outside the Iran Mission in New York. [Agencies]