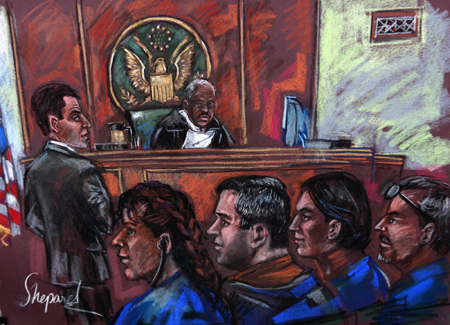 (From L to R) Russian spy suspects Vicky Pelaez, Richard Murphy, Cynthia Murphy and Juan Lazaro, are seen in this courtroom sketch during an appearance at the Manhattan Federal Court in New York July 1, 2010. [Agencies]
NEW YORK - Eleven suspects accused of spying for Russia were formally charged in a US federal indictment unsealed on Wednesday.
The indictment charged all the defendants with conspiring to act as secret agents and also charged nine of them with conspiracy to commit money laundering.
Federal judges in Boston and Alexandria, Va., signed orders directing that five defendants arrested in Massachusetts and Virginia be transferred to New York.
Last month, 10 people were arrested in the United States suspected of spying for Russia. An 11th was detained in Cyprus and later went missing after his release on bail.
All 11 people were charged in Manhattan and had to be brought there eventually while they were scheduled to be arraigned Thursday on the indictment.  
The Russian Foreign Ministry had acknowledged that some of the suspects involved in the spy case were Russian citizens, but denied that the suspects acted against US interests.
Russia at first said that the US actions were "unfounded," but later hoped the spy case would not harm bilateral relations.