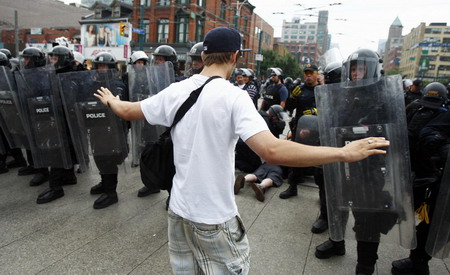 A man stands in front of police officers amid arrests during a G20 march in downtown Toronto, June 27, 2010. [Agencies]
Toronto -- Things are slowly returning to normal in Toronto as fences have been removed since early Monday morning from downtown streets. The tall fences, extending some 4 kilometers, blocked part of the downtown streets where G20 spent the weekend discussing global economic and financial issues.
However, the police are still grappling with the aftereffect of the protests. The number of protestors detained numbered 900, with local legal aid people questioning the legal ground for such intensive security efforts.
But the local police chief was quoted by the local media as saying that it was necessary to do it, "to keep Toronto safe".
Quite a number of people detained said they were innocent bystanders, but the police chief said those who had been asked to leave refused to go. They "facilitated" the anarchists and hooligans by refusing to leave.
Police officials announced overnight that people would no longer need to show identification or a security pass to move through the security perimeter. Air and marine restrictions were also lifted as the world leaders left the city.
Most of those arrests occurred after a peaceful protest turned into a violent rampage through the city by a group of protesters using so-called Black Bloc techniques. Before Saturday's riot that left four police cruisers burning in the city's streets, police had only arrested 32 individuals for G20 security-related incidents.
Jillian Van Acker, of the so-called Integrated Security Unit established specifically for G8-G20 summits. said some individuals continue to be released from the Eastern Ave. detention centre inside the Toronto Film Studios property on Monday. Others are making their way to court.
"People who have been charged and are waiting for bail hearings, we can expect a couple of them to go through courts today," she said.