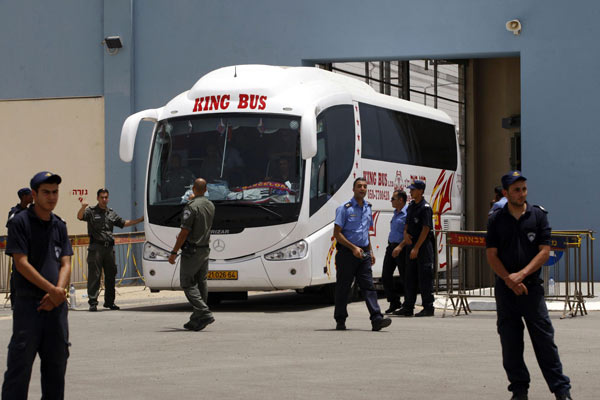 A bus carrying activists, arrested aboard Gaza-bound ships, leaves Ella prison in the southern Israeli city of Beersheba June 2, 2010. [Agencies]
JERUSALEM – Israel said it would complete on Wednesday the deportation of all the pro-Palestinian activists seized in its raid on a Gaza aid flotilla and vowed to stop other ships from reaching the Hamas-run enclave.
Amid international outrage over the deaths of nine people in the interception at sea, Turkey, which has recalled its ambassador from Israel, demanded that it lift its blockade of Gaza as a condition of restoring full ties.
"The future of ties with Israel will depend on the attitude of Israel," Turkish Foreign Minister Ahmet Davutoglu said.
Israeli Defense Minister Ehud Barak visited commandos who took part in the raid and told them: "I came in the name of the Israeli government to say thank you."
Israel said it would deport 682 activists from more than 35 countries detained after the assault in international waters on Monday on six aid ships bound for Gaza, where Hamas Islamists opposed to Palestinian President Mahmoud Abbas hold sway.
By midday on Wednesday, about 200 activists had been transferred from a holding center to Ben-Gurion airport near Tel Aviv, a Prisons Service spokesman said, and 123 passed through a border crossing into neighboring Jordan.
The remaining activists would be released throughout the day, the spokesman said. All have been held incommunicado by Israeli authorities.
Praising naval commandos for an operation that Israeli military affairs commentators have described as bungled, Barak said at the marines' base near the port of Haifa that they had carried out their mission under difficult circumstances.
Israel said the marines who rappelled onto the Turkish vessel Mavi Marmara, where most of the violence took place, fired in self-defense after activists clubbed and stabbed them and used two pistols snatched from the boarding party to shoot and wound several of them.
The captain of the Turkish-flagged Gazze, a freighter carrying the bulk of the aid, said the convoy was 68 miles outside Israeli territorial waters when he saw lights in the sea and sky and helicopters approaching.
Israeli commandos then boarded his ship and subdued his crew. "They pointed two guns to the head of each of us," Captain Huseyin Tokalak told a news conference in Istanbul after Israel released him. There were no casualties on his vessel.
Addressing Israel's parliament, Deputy Defense Minister Matan Vilnai said warnings were issued by radio to each of the six captains that they were entering a "blockaded area" and could instead dock in Israel and unload their aid for transfer to the Gaza Strip.
He said the navy had recordings of the captains swearing in response. "I didn't know there were so many curse words in foreign languages," Vilnai said.
Investigation appeal
In an appeal echoed by Washington, the UN Security Council called for an impartial investigation of the deaths.
Turkey, which recalled its ambassador in Tel Aviv, said three of the nine dead had been identified as Turks and a fourth had a Turkish credit card. Israel has not named publicly any of those killed.
Davutoglu told a news conference in Ankara on his return from a US visit: "I see no reason for not normalizing the ties (with Israel), once the Gaza blockade is lifted and our citizens are released."
Another attempt to bust the blockade loomed on the horizon: The MV Rachel Corrie, a converted merchant ship bought by pro-Palestinian activists and named after an American woman killed in the Gaza Strip in 2003, set off on Monday from Malta.
It is carrying 15 activists, including a Northern Irish Nobel Peace laureate, and expects to be at the point of Monday's interception between Friday evening and Saturday morning, crew member Derek Graham told Irish state broadcaster RTE.
Asked how Israel planned to deal with any new attempt to steam into Gaza, Tzachi Hanegbi, head of parliament's Foreign Affairs and Defense Committee, said: "We cannot let them blur the red line Israel has set. Letting them in to help Hamas is not an option."
Gaza-Egypt border
Egypt, which has kept its own Gaza border largely closed since Hamas seized the territory in 2007, reopened the frontier crossing on Tuesday.
The move was widely seen as an attempt to deflect criticism of its blockade, and hundreds of Palestinians flocked to the frontier terminal at Rafah on Wednesday. It is the only Gaza crossing not controlled by Israel.
Israeli media reported that families of Israeli diplomats stationed in Turkey were being flown home due to security concerns.
But Davutoglu said it was "time that calm replaced anger in reaction to Israel" and he urged people to avoid impulsive behavior.
"The security of families of Israeli diplomats, Israeli tourists and Jewish Turks is our nation's honor. We will be making sure they are safe," he said.
In Washington, US Secretary of State Hillary Clinton called for "careful, thoughtful responses from all concerned" to Israel's interception of the flotilla.
"We support an Israeli investigation that meets those criteria. We are open to different ways of ensuring a credible investigation including international participation," Clinton said, without elaborating.