TOKYO - Japanese Prime Minister Yukio Hatoyama says he is resigning.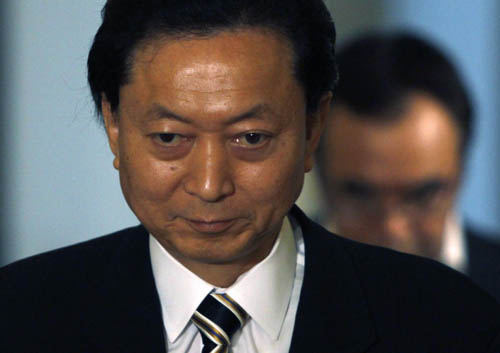 Japanese Prime Minister Yukio Hatoyama arrives at the parliament for a meeting with his ruling Democratic Party Secretary-General Ichiro Ozawa in Tokyo in this June 1, 2010 file photo. [Agencies]
Hatoyama told a news conference broadcast nationwide on Wednesday that he will step down over his broken campaign promise to move a US Marine base off the southern island of Okinawa. With tears in his eyes, Hatoyama told a party gathering both he and party secretary-general Ichiro Ozawa would resign their posts.
After eight months in office, the embattled prime minister has faced growing pressure from within his own party to resign ahead of July elections.
His approval ratings have plummeted over the bungling of handling the Marine Air Station Futenma, reinforcing his public image as an indecisive leader.
Calls have built up in Hatoyama's Democratic Party for him to step down to revive the party's fortunes ahead of an election for the upper house of parliament expected on July 11 that it must win to smooth policymaking.
Analysts have tipped outspoken Finance Minister Naoto Kan as the likely successor if Hatoyama quits after just eight months on the job.
Kan has in the past pressed the Bank of Japan to do more to fight deflation and has sounded more positive than Hatoyama about raising the 5 percent sales tax in the future to fund bulging social welfare costs.
That stance would be welcomed by investors worried about Japan's huge public debt, which is nearly 200 percent of GDP.
Political confusion, including the recent departure of a tiny leftist party from the ruling coalition, has distracted the government as it thrashes out a plan to cut huge public debt and a strategy to engineer growth despite a fast-ageing population.
If Hatoyama resigns, he will be Japan's fourth straight leader to quit after a year or less in office.