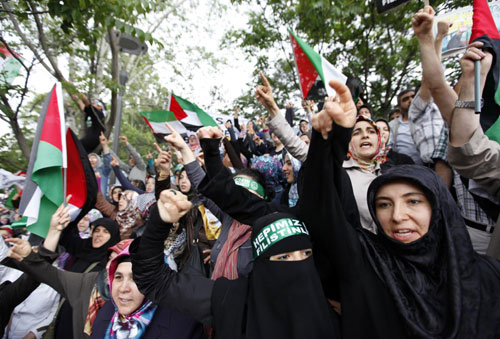 Demonstrators shout slogans during a protest against Israel in front of the residence of Israeli Ambassador to Turkey, Gabby Levy, in Ankara June 1, 2010. [Agencies] 
JERUSALEM - Wrong intelligence, wrong guns, wrong tactics. Israel's military acknowledged big mistakes on Tuesday during the bungled boarding of a Gaza-bound aid ship in which elite troops killed nine international activists.
Though Israelis rallied to their conscripts in the face of foreign fury, the domestic recrimination -- with "Foul-up" and "Fiasco" dominating newspaper headlines -- betrayed an erosion of confidence recalling the setbacks of the 2006 Lebanon war.
One commentator demanded that Defense Minister Ehud Barak step down. Cabinet members vowed to investigate, but their insistence that the pro-Palestinian activists had provoked the bloodshed found a ready ear among an irate Israeli public.
The secretive Flotilla 13 marine commando unit was brought out of the shadows to try to explain the operation's failings.
"We did not expect such resistance from the group's activists as we were talking about a humanitarian aid group," one unnamed naval lieutenant told Israel's Army Radio.
"The outcome was different to what we thought, but I must say that this was mainly because of the inappropriate behavior of the adversary we encountered."
Israel's police quarantine of activists from the Mavi Marmara prevented airing of dissenting testimony. The navy also jammed communications while storming the converted cruise ship.
That did not stop passengers broadcasting a globally viewed video clip that, ironically, helped Israel's case by showing a clutch of activists clubbing and stabbing two marines.
Israel released its own night-vision mission footage of a half-dozen commandos grappling with as many as 30 activists.
The images stirred undercurrents of disbelief and disgrace in Israel. Fabled for their silent exploits at sea, the fighters who rappelled onto the Mavi Marmara looked unfit for the melee -- outnumbered, almost overpowered, though far from outgunned.
Jason Alderwick, a maritime warfare expert at London's International Institute for Strategic Studies, faulted the marines for not commandeering the vessel more efficiently.
"Success begins with planning and with decent intelligence, and they have boarded such ships before," he said. "This time they didn't go in hard enough, fast enough and in sufficient numbers to establish overwhelming control."