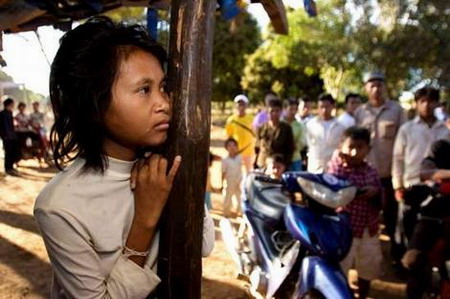 In this undated file photo, locals watch the young woman identified as Rochom P'ngieng from outside her home in Rattanakiri province, nearly 960 miles (600 kilometers) northeast of Phnom Penh. [Agencies]
PHNOM PENH, Cambodia -- A woman dubbed the "jungle woman" after emerging naked and unable to speak from the wilds of northeastern Cambodia three years ago has apparently fled back to the forest, her presumed father and police said Friday.
Sal Lou, who claims to be the father of Rochom P'ngieng, said she went missing Tuesday while bathing by a well behind their home in Rattanakiri province, nearly 960 miles (600 kilometers) northeast of Phnom Penh. She is thought to be 29 years old.
"There is no sign indicating that her disappearance could be foul play. I am sure she went back to the forest," Sal Lou told The Associated Press by phone from the jungle area where he has been searching for her.
Rochom P'ngieng emerged from the jungle in early 2007, attracting attention when she was caught trying to steal food from a villager. Sal Lou's family then said she was their daughter, who was 8 when she disappeared in 1988 while herding buffalo in a remote area.
However, the relationship was never proven, and it was not established how she could have survived in the wild for 19 years. Some villagers suspected she was not Rochom P'ngieng, but someone else suffering from mental problems who had been lost in the jungle for a much briefer time.
Sal Lou said Friday he and his family members have searched for her for three days in several villages and in the jungle, but had no news from her.
"She tried several times before to leave home and live back in the forest but she could not. This time her wish came true."
Mao Vicheth, the local police chief, said his officers have sent word of her disappearance throughout the community and were investigating to see whether she might have been kidnapped or murdered. He said the case was a mystery but he did not believe she had been killed.
In October, Rochom P'ngieng was admitted to Rattanakiri provincial hospital for four days after falling sick, apparently suffering from mental illness.