MEETING MINISTERS LI SHENGLIN
BEIJING - China's expressways will stretch for 73,000 km by the end of this year, the second largest in the world after the United States, Minister of Transport Li Shenglin said in a recent interview.
But despite the network's quick development, the country needs to coordinate the development of various means of transportation to avoid more traffic jams like the astonishing week-long congestion on the Beijing-Tibet Expressway in August this year, he said.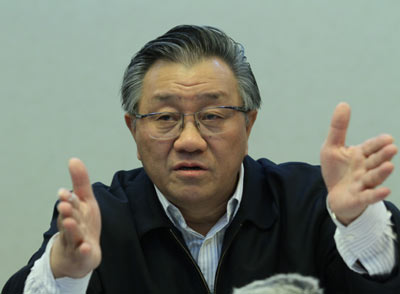 Li Shenglin is minister of transport. [Photo/China Daily]
In the past five years, the country built an average of 6,000 km of expressways each year, equal to the total length of expressways in Japan or Italy. The investment on expressways between 2006 and 2010 totaled 2 trillion yuan ($300 billion), he said.
During the past decades, roads, air transport and railways have been rolled out at a frenetic pace, which is "necessary and irreplaceable" to the country's economic development, he said.
However, the entire transportation system is running with low efficiency due to lack of coordination, the minister said.
The traffic jams on the Beijing-Tibet Expressway are an indication of the importance of coordinated transport construction, he said.
In August, thousands of trucks heading to Beijing were stuck in a section of the Beijing-Tibet Expressway for more than 10 days, forming a line more than 100 km long.
Many blamed the congestion on the expressway's design, which they said lacked foresight to handle the huge traffic that swarmed into the Inner Mongolia autonomous region for coal.
Li believed that expressways are not supposed to be used for coal transport.
Coal-rich provinces export their resources by one of two means - by train, like Shanxi province does via the Datong-Qinhuangdao Railway, a rail link built specially for carrying coal out of Shanxi, or by turning the coal into electricity and sending power through wires.
But for Inner Mongolia, an emerging coal producer in the recent years, both those means are lacking.
The Beijing-Tibet Expressway and the No 110 national highway are the only channels that coal trucks from the autonomous region can use to reach the ports of Jinzhou and Tianjin, from where the coal is shipped. In August, repair work on the No 110 national highway forced all trucks to use the already crowded expressway.
Statistics from the ministry show traffic where the trucks were stranded has soared to twice the designed capacity. "How can the traffic on the expressway keep moving (with such a heavy flow)?" the minister said.
A railway will be built for transporting coal from Inner Mongolia to the ports, and ships will send coal from ports to other parts of the country, he said.
China took the first step toward coordinating transportation in 2008 by merging the administrations of civil aviation and postal service with the Ministry of Transport, which used to only be in charge of roads, ports and waterways.