BEIJING - China will "vigorously" expand its imports of key products as the nation strives to cut its trade surplus amid growing protectionism against the world's largest exporter, a senior Chinese trade official said on Monday.
"We will especially encourage imports of products the nation is short of, especially advanced technology and key equipment," said Chong Quan, China's deputy international trade representative.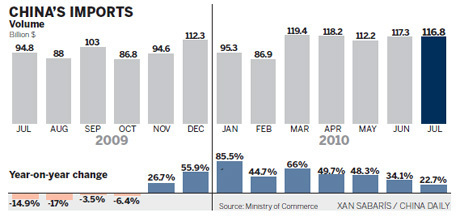 Special attention will be paid to expanding imports from countries that China has a trade surplus with, he said at the China Import Forum organized by the Ministry of Commerce.
Due to their domestic economic woes and political pressure, some developed countries, in particular the US, have accused China of piling up trade surpluses through policies such as an undervalued currency. This argument conveniently ignores other factors at play, such as their own export restrictions.
Nonetheless, in the first six months of this year, US exports to China increased 35.7 percent year-on-year, 13 percentage points higher than its overall export growth, according to US figures.
Despite the surge of its trade surplus in July, which stood at $28.7 billion, China will see the surplus drop dramatically for the year to about $150 billion, compared to $190 billion in 2009 and $290 billion in 2008, trade officials said. The country even registered a rare trade deficit of $7.2 billion in March.
As a result of the shift in strategy, the ratio of China's current account (mainly trade of goods) balance to its gross domestic product has been dropping continually since 2007, said Zhang Yansheng, director of the Institute of Foreign Trade at the National Development and Reform Commission.
"China's processing trade (bringing in goods and exporting finished products), which is the bulk of its exports, could plummet in the coming five years," he said.
The country will also streamline non-tariff measures that could potentially impede imports, simplify import procedures and reduce relevant costs, he said, adding that China has abolished import licenses for more than 800 kinds of goods over the past five years. It will also consider providing easier finance for importers, he said.
In line with the import drive, the Ministry of Commerce will also set up an exhibition center for African products in Yiwu, Zhejiang province, in November, Chong said.
"It aims to help African countries expand exports to China."
China, meanwhile, has taken aggressive measures to restructure its economy, shifting to a domestic demand-driven growth model.
Chong said China's imports had played an important role in stabilizing the global economy.
The US' trade deficit is caused mainly by restrictive export policies, officials and experts present at the forum said. The US does not permit the export of some high-tech products to China, citing security reasons.
China's domestic market is expected to reach $2 trillion in size this year, compared to imports of goods worth about $1 trillion in 2009, Chong said.
"If they continue their restrictive policies, some countries will have cause to regret when they find they have lost their share of the burgeoning China market," Yu Danhua, foreign trade bureau chief of Ningbo in Zhejiang province, told the forum.