OTTAWA - Chinese President Hu Jintao flew into Ottawa, capital of Canada, Wednesday for a state visit, and later he will travel to Toronto for a summit of the Group of Twenty (G20), which aims to secure the global economic recovery and address economic challenges and risks.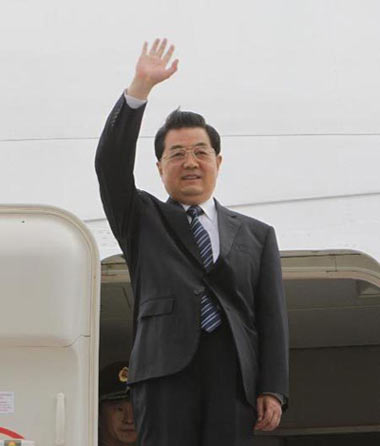 Chinese President Hu Jintao arrives at the airport in Ottawa for a state visit to Canada, June 23, 2010. Later he will travel to Toronto for a summit of the Group of Twenty(G20).[Photo/Xinhua]
In a statement released upon his arrival at the airport, Hu said that China is ready to work with Canada to further expand exchanges and cooperation in various fields, push forward the China-Canada strategic partnership and bring even more benefits to the people of the two countries and around the world.
Hu said that during his visit, he will have extensive meetings and in-depth discussions with Canadian leaders and people from all sectors of Canadian society to explore with them effective ways to advance China-Canada strategic cooperation.
Under the current international situation, Hu said, China and Canada share broad common interests and vast potential for cooperation in many areas, ranging from promoting economic growth in both countries and the world to resolving regional hotspot issues and meeting various global challenges.
"China always values China-Canada relations," Hu stressed, adding that bilateral exchanges and cooperation have made positive progress in such fields as economy, trade, energy, science, technology, education, culture, health, environmental protection, justice and law enforcement.
This year marks the 40th anniversary of the establishment of diplomatic relations between China and Canada. Hu said that over the past four decades, the development of China-Canada relations has delivered real benefits to the people of the two countries and greatly contributed to regional and global peace, stability and prosperity.
Hu was greeted at the airport by Canadian Foreign Minister Lawrence Cannon. During his visit, Hu will meet Canadian Governor-General Michaelle Jean and Prime Minister Stephen Harper and exchange views on the development of China-Canada relations and major world and regional issues of mutual interest, Chinese diplomats said.
The two countries will sign a number of cooperation documents during Hu's visit, they said.
In September 2005, President Hu paid a state visit to Canada. And last December Prime Minister Harper paid his first visit to China since he took office in 2006.
During Harper's visit, President Hu and other Chinese leaders met Harper and had an in-depth, candid and productive exchange of views on China-Canada relations and major international and regional issues of mutual interest, finding consensus in many areas.
The two sides agreed to work together to further promote China-Canada cooperation in all bilateral areas and international affairs, as bilateral relations enter a significant new era.
At present, China is Canada's second largest trade partner while Canada is China's 13th. In 2009, their two-way bilateral trade reached $29.7 billion.
In the first four months of this year, bilateral trade stood at 10.2 billion dollars, an increase of 19 percent over the corresponding period last year.
"Canada and China are laying the groundwork for a new decade of growth by deepening cooperation in a wide number of areas," said Canadian Prime Minister Harper in a statement on Hu's visit last Friday.
"It is a fitting tribute to 40 years of diplomatic relations based on mutual respect and collaboration," he said.