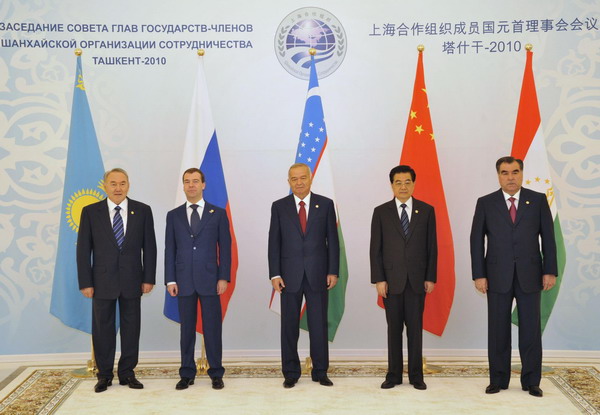 Leaders at the Shanghai Cooperation Organisation (SCO) pose for a group photo in Tashkent June 11, 2010. (L-R) Kazakhstan's President Nursultan Nazarbayev, Russian President Dmitry Medvedev, Uzbek President Islam Karimov, Chinese President Hu Jintao and Tajikistan's President Imomali Rakhmon. [Agencies]
TASHKENT - The member countries and observer states of the Shanghai Cooperation Organization (SCO) began their annual summit in the Uzbek capital of Tashkent on Friday.
The summit is being attended by heads of state from China, Russia, Kazakhstan, Tajikistan and Uzbekistan, the delegate from Kyrgyzstan, and leaders and delegates from SCO observer nations -- Mongolia, India, Pakistan and Iran.
Speaking at the summit, Chinese President Hu Jintao made a six-point proposal on strengthening cooperation within the framework of the SCO.
The proposal included strengthening solidarity and mutual trust, stepping up counter-terrorism efforts, fully tapping the potential of cooperation, expanding friendly exchanges, improving the SCO institutional building and decision-making mechanism, and promoting the organization's transparency and inclusiveness.
"Over the past year, our practical cooperation in various fields within the SCO has been fruitful and has contributed greatly to our collective response to the international financial crisis," Hu said.
At the summit, Hu and other leaders will exchange views on the global and regional situation, coordinate strategies for combating terrorism, separatism and extremism, and discuss ways to expand inter-member economic cooperation and set up an SCO admission mechanism.
Draft documents submitted for approval in the summit include the regulations on procedure for admitting new members, which was submitted by SCO foreign ministers last month in Tashkent, and the SCO procedure rules, which was designed to further enhance efficiency and improve the internal mechanisms of the organization.
At the end of the summit, the leaders will issue a joint declaration.