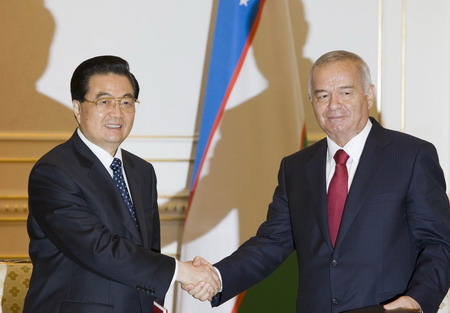 Chinese President Hu Jintao (L) and Uzbek President Islam Karimov shake hands after signing documents in Tashkent, June 9, 2010. Hu arrived at Tashkent for a state visit before the Shanghai Cooperation Organization (SCO) Summit.[Photo/Agencies] 
TASHKENT - Chinese President Hu Jintao on Wednesday started a state visit to Uzbekistan, where he will also attend a summit of the Shanghai Cooperation Organization (SCO) Friday.
This is Hu's second visit to the Central Asian country since he became head of state in 2003.
In a statement released upon his arrival at the airport, Hu said his visit was aimed at enhancing the long-standing friendship between the peoples of the two countries and advancing the friendly and cooperative partnership to a new level.
Hu met with his Uzbek counterpart Islam Karimov later Wednesday, with both sides pledging to further enhance cooperation in all fields.
He put forward a six-point proposal for further enhancing the bilateral friendly and cooperative partnership: maintaining high-level contacts to boost mutual understanding; enhancing energy cooperation; expanding cooperation in new sectors such as high technology and new technology; deepening security cooperation and taking severe measures against the "three evil forces" of terrorism, separatism and extremism; strengthening people-to-people and cultural exchanges to consolidate the foundation of friendship, and intensifying multilateral coordination so as to safeguard the two countries' common interests.
The Chinese president also spoke highly of Uzbekistan's efforts to deepen cooperation among SCO member countries, enhance the internal construction of the organization and boost the organization's international status during its SCO presidency.
Karimov agreed with Hu's comments on bilateral ties and his six-point proposal for further enhancing bilateral relations, saying Hu's suggestion has charted the direction for future bilateral and multilateral cooperation.
He said his country upholds the one-China policy, backs China's positions on issues concerning China's sovereignty and territorial integrity, and supports the fight against the "three evil forces."
Karimov also said his country highly appreciates China's important role in tackling the global financial crisis and in solving regional and international problems.
Following the meeting, the two leaders witnessed the signing of cooperation documents between the two countries. They also signed a joint statement on efforts to comprehensively deepen and develop the friendly and cooperative partnership between China and Uzbekistan.
The Chinese leader will attend this year's SCO summit slated for Friday. He will also pay a state visit to Kazakhstan.
Founded in 2001, the SCO consists of China, Russia, Kazakhstan, Kyrgyzstan, Tajikistan and Uzbekistan. Mongolia, India, Pakistan and Iran are observers of the organization.