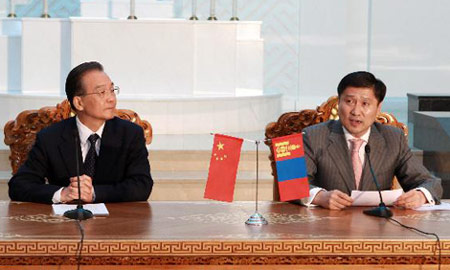 Chinese Premier Wen Jiabao (L) attends a welcoming ceremony held by his Mongolian counterpart Sukhbaataryn Batbold in Ulan Bator, Mongolia, June 1, 2010. [Xinhua]
ULAN BATOR - Visiting Chinese Premier Wen Jiabao and his Mongolian counterpart Sukhbaataryn Batbold agreed Tuesday to deepen bilateral cooperation in various areas including energy, trade and environmental protection.
China and Mongolia should strengthen exchanges and cooperation and advance the partnership of good-neighborliness and mutual trust between the two countries, Wen said in talks with Batbold in Ulan Bator, Mongolia's capital.
China is ready to maintain exchanges of high-level visits with Mongolia, said the Chinese premier, who arrived earlier in the day for a two-day official visit.
He said the two nations should strengthen mutual political trust and continue to extend firm support to each other on major issues concerning their respective core interests.
Wen also said the two sides should adopt practical measures to deepen their trade and economic cooperation and make efforts to promote cooperation in mineral resources development, infrastructure construction and finance.
China is also willing to boost cooperation with Mongolia in energy, environmental protection and transportation, he added.
During the talks, the Chinese premier pledged continued support and assistance for Mongolia's economic and social development.
He suggested that the two sides launch a feasibility study at an early date on a China-Mongolia free trade area (FTA).
As an effort to promote cultural exchanges, Wen said China will offer 2,000 government scholarships to Mongolian students in the next five years.
Batbold said Mongolia is ready to increase cooperation with China in such areas as finance and environmental protection.
Expressing support for a FTA, he said Chinese enterprises are welcome to expand investments in Mongolia and participate in the country's infrastructure construction and the development of mineral and energy resources.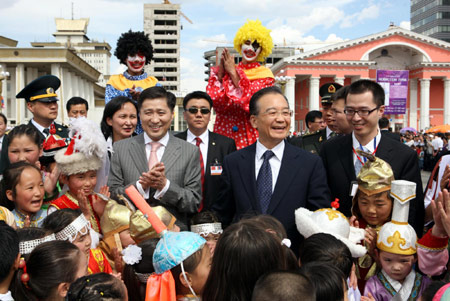 Chinese Premier Wen Jiabao (2nd R) meet with Mongolian children during his state visit to Mongolia in Ulan Bator, Mongolia, June 1, 2010. [Xinhua]
Batbold said trade and economic cooperation with China, Mongolia's largest trading partner and biggest source of investment, has been fruitful in recent years.
Mongolia highly values its relations with China and will adhere to the one-China policy, said the Mongolian leader.
He also said Mongolia will steadfastly support the Chinese government's position on the issues of Taiwan and Tibet.
The two sides also pledged to work together to safeguard regional peace and stability.
Mongolia is the third leg of Wen's four-nation Asian tour, which has already taken him to South Korea and Japan. He will also visit Myanmar.